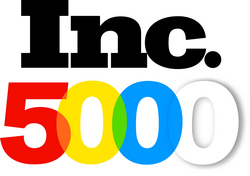 Savvy trend spotters and those who invest in private companies know that the Inc. 5000 is the best place to find out about young companies that are achieving success through a wide variety of unprecedented business models, as well as older private companies that are still expanding at an impressive rate
Omaha, Nebraska (PRWEB) September 10, 2009
Inc. magazine ranked traveling healthcare staffing company, Medical Solutions No. 743 on its annual Inc. 5000 list, an exclusive ranking of the nation's fastest-growing private companies. Medical Solutions was ranked as the fifth fastest growing company in Nebraska with a three-year sales growth of 389.6%. The list represents a comprehensive look at the most important segment of the economy--America's independent-minded entrepreneurs.
Medical Solutions has experienced outstanding growth over the past three years. During that time, the company has grown more 389.6%, three times more than the median growth rate for companies making this year's list. Additionally, the company's revenue topped more than $43 million in 2008, more than four times the median revenue of companies making the list. The company was recently recognized as the fastest growing healthcare staffing company in the country by Staffing Industry Analysts and third overall among all segments of the staffing industry.
Scott Anderson, president and co-owner, of Medical Solutions said, "We are very excited and proud to be recognized for a third year in a row, and be amongst the fasting growing companies in the United States. The sweeping nature of the Inc. 5,000 list, that includes companies of all sizes from all sectors, makes this acknowledgement even more significant. Making the list is further validation that our industry leading customer service makes all the difference to our client hospitals and travelers, especially considering our major competitors experienced significant declines in 2008."
Medical Solutions specializes in placing registered nurses, physical therapists, occupational therapists and various other allied health professionals in temporary travel assignments nationwide. The company was started in 1997 specializing in permanent placements of registered nurses. The company was purchased in 2001 by the current owners who abandoned this model and redesigned it to provide temporary healthcare staff beginning in 2002. Medical Solutions currently employs nearly 100 internal staff in its Omaha Nebraska office and is contracted with over 1,100 client hospitals in all 50 states including the government.
"Savvy trend spotters and those who invest in private companies know that the Inc. 5000 is the best place to find out about young companies that are achieving success through a wide variety of unprecedented business models, as well as older private companies that are still expanding at an impressive rate," said Inc. 5000 project manager Jim Melloan. "That's why our list is so eagerly anticipated every year."
The 2009 Inc. 5000, serves as a unique report card on the U.S. economy. Despite the ongoing recession, aggregate revenue among the companies on the list actually increased to $214 billion, up $29 billion from last year, with a median three-year growth rate of 126 percent. The Inc. 5000 are responsible for creating more than 1 million jobs since their founding, making the list perhaps the best example of the impact private, fast-growing companies can have on the economy. Complete results of the Inc. 5000, including company profiles and an interactive database that can be sorted by industry, region, and other criteria, can be found on Inc.com.
Methodology
The Inc. 5000 is ranked according to percentage revenue growth from 2005 through 2008. To qualify, companies must have been founded and generating revenue by the first week of 2005, and therefore able to show four full calendar years of sales. Additionally, they have to be U.S.-based, privately held, for profit, and independent -- not subsidiaries or divisions of other companies -- as of December 31, 2008. Revenue in 2005 must have been at least $200,000, and revenue in 2008 must have been at least $2 million. The top 10 percent of companies on the list comprise the Inc. 500, now in its 28th year.
About Inc. Magazine
Founded in 1979 and acquired in 2005 by Mansueto Ventures LLC, Inc. (Inc.com) is the only major business magazine dedicated exclusively to owners and managers of growing private companies that delivers real solutions for today's innovative company builders. With a total paid circulation of 712,961, Inc. provides hands-on tools and market-tested strategies for managing people, finances, sales, marketing, and technology. Visit us online at Inc.com.
About Medical Solutions, Inc.
Medical Solutions, Inc. was one of the first travel nurse and allied healthcare staffing companies to be certified by the Joint Commission and has been continuously certified since 2004. Its focus is on meeting the urgent and short-term staffing needs of its clients with highly skilled allied health professionals, nurses and technologists. A nationwide network of travelers allows Medical Solutions to help its client hospitals continue to provide excellent patient care amidst a nursing and allied health shortage. Medical Solutions has contracts with nearly 1,100 client hospitals nationwide and is one of the fastest growing companies in the travel nursing and allied health industry. Visit Staffing.MedicalSolutions.com or MedicalSolutions.com to learn more.
###