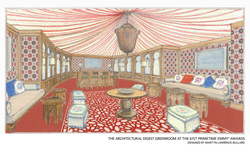 He will delight guests with a creation as special as this occasion.
North Hollywood, CA (PRWEB) September 8, 2009
Architectural Digest, the world's leading design magazine, has selected AD 100 interior designer Martyn Lawrence-Bullard to create the signature Architectural Digest Greenroom at the 61st Primetime Emmy® Awards. Now in its eighth year, this partnership between the magazine and the Television Academy launched the concept of a high-design backstage haven for talent on one of Hollywood's biggest nights. Each year the exclusive room is built from scratch, transforming a raw backstage area into a remarkably designed space.
"Martyn is known for his attention to detail and eclectic sense of style," said Paige Rense, Editor-in-Chief, Architectural Digest. "He will delight guests with a creation as special as this occasion."
The space, located directly off stage left, has virtually no ceiling limitation, allowing Lawrence-Bullard to take full advantage by constructing an 18-foot-high tented room. When the celebrities arrive backstage, they will be drawn into a private, canopied entrance that will dramatically give way to the larger tented room. The décor is pure Moroccan oasis--comfortable, colorful and globally chic.
Lawrence-Bullard has chosen a color palette of rich Turkish reds, olive greens and Mediterranean blues for the 625-square-foot space. Many of the items designed especially for the room, including the furniture, fabrics, rug and flooring, are made from natural, organic or recycled content. Among the featured furnishings in this Moorish room:

"In order to match the caliber of talent being honored this year, we are dedicated to making this the most surprising greenroom ever," said Lawrence-Bullard, who has many clients in the television industry. "Our Moroccan setting backstage will capture the evening's high energy and glamour with a room infused with color and unexpected design features."
Lawrence-Bullard has designed mirrored panels using traditional Mosharabi screens, adding architectural weight to the space. The lighting will be provided by Turkish wall lanterns on iron hooks at the corners of the "tent," with an antique pierced brass chandelier suspended from the center of the fabric ceiling, a fitting spotlight for a star-studded space.
To follow the making of the Architectural Digest Greenroom at the Primetime Emmys, log on to http://www.ADGreenroom.com.
The 61st Primetime Emmy Awards, airing Sunday, September 20 at 8 PM (ET/PT) on CBS, from NOKIA Theatre L.A. LIVE, marks the eighth consecutive year Architectural Digest will design the greenroom in which celebrity presenters make their final preparations before heading onstage. Each year, a talent from the prestigious AD 100, the magazine's list of the top 100 designers and architects, is commissioned to create this temporary sanctuary that serves as the primary gathering spot backstage for both rehearsals and the telecast. Designs for the Architectural Digest Greenroom at the Primetime Emmys in the past include a 1920s Hollywood bungalow; a mid-century modern space reminiscent of Case Study homes in 1950s L.A.; and more. Visit http://www.ADgreenroom.com for details and photos.
About Architectural Digest:
Architectural Digest is the world's definitive design magazine, reaching an audience of 5 million readers each month. The magazine features the work of world-class authors and photographers and regularly presents a "first look" at the homes of leaders in the fields of entertainment, fashion, business, society and the arts. The AD 100 is Architectural Digest's "picks" of the top 100 interior designers and architects in the world.
About the Academy of Television Arts & Sciences:
The Academy of Television Arts & Sciences was founded in 1946 just one month after network television was born. It is a non-profit organization devoted to the advancement of telecommunications arts and sciences and to fostering creative leadership in the telecommunications industry. In addition to recognizing outstanding programming through its Primetime Emmy® Awards, the Television Academy publishes emmy magazine and through its Foundation, is responsible for the Archive of American Television, College Television Awards, acclaimed student internships and other educational outreach programs. For more information on the Television Academy and its many industry-related programs and services, please visit http://www.emmys.tv.
About Martyn Lawrence-Bullard Design:
Renowned for their broad eclectic range of style, this multiple award-winning interior design company has succeeded in creating sophisticated yet always comfortable interiors. Lawrence-Bullard is acclaimed for his extraordinary commitment to quality and detail, and his work has won him international clientele. Beginning professionally at the age of 18, Lawrence-Bullard's style has been influenced mostly by his travels. "I believe to see new countries and experience new cultures is the finest design education one can get," he stated. Lawrence-Bullard takes much pride in his eclectic sense of style; diversity is the fuel of his creativity. Martyn Lawrence-Bullard Design has earned its way to Architectural Digest's prestigious AD 100 listing.
Media Contacts:
Jennifer Price-Keith, The Lippin Group
323-965-1990
Elissa Lumley, Architectural Digest
212-286-2225
###