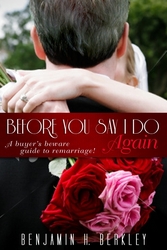 In the pages of BEFORE YOU SAY
Los Angeles, CA (PRWEB) September 9, 2009
Veteran lawyer Ben Berkley's fourth non-fiction book, Before You Say "I Do" Again: A Buyer's Beware Guide To Remarriage (http://www.benberkley.com) offers much practical legal and psychological advice on approaching a second marriage, to avoid repeating old problems and encountering new ones. The theme of this book could be expressed thus: "Walk, don't run, to the altar."
"I wrote the book (http://www.benberkley.com) because of the sobering stats that 70% of re-marriages fail and that second marriages are shorter than first ones," Berkley explains. "When I first started practicing law 31 years ago, I specialized in divorce. I soon realized that in this very sad area of the law, most people weren't seeing the big warning signs and were therefore very likely to encounter serious marital problems in future unions."
The first part of the book (http://www.benberkley.com) revisits your first marriage and asks the question: "Should I open a restaurant or remarry?" -- as both are highly risky ventures. Berkley discusses what the next divorce could cost you and examines the legal consequences.
The second part of this book (http://www.benberkley.com) discusses getting emotionally, legally and financially ready to say "I do" again. It covers: legal issues like pre-nuptial agreements and estate planning; financial aspects, including examination of where you and your spouse are regarding debt, credit rehab and bankruptcy; and the emotional aspects of remarriage, such as whether it's really so bad to be alone. Berkley stresses that to have a successful second (or third) marriage one must recognize what went wrong the first time and be willing to make changes. Too often, he believes, people don't accept much responsibility, but simply blame the first spouse for all the problems.
Part three is appropriately titled, "Kick the Tires and Check Under the Hood," and deals with learning a lot about your future spouse. He or she may have emotional and/or physical baggage, such as habits and traits you disliked in the first spouse and/or troubling emotional habits, including smoking, drinking, workaholia, bad temper and political or religious extremism. Does he get along with his own family? Is he likely to get along well with yours? One chapter examines how important family is to each partner and whether or not each can calmly accept the future spouse's views on this. It also looks at how the future partner dresses, what he eats and likes to do and many other potential problem areas.
The fourth part of Berkley's book tests your compatibility with your prospective spouse, posing many questions you need to ask, covering politics, religion, habits, dislikes, etc.
An Appendix has samples of useful documents: pre-nuptial agreement, will, guardianship clause and asset and debt organizers (which spell out what belongs to each party).
"One big issue is children," Berkley warns. "Re-marriage often requires a hard adjustment for both parties, for the children and for the in-laws. Will they accept you? Are you a replacement for the other parent? Is the other parent going to be involved with the kids?
"The bottom line of this book is: before you re-marry, you must identify all that went wrong the first time around and then learn what to do to prevent those mistakes from happening again. A big part of getting ready to re-marry is to understand what you have been through and what it will take to recover, rehabilitate and move forward."
Said Michael Ray Dresser, nationally syndicated talk show host: "In the pages of BEFORE YOU SAY "I DO" AGAIN, Ben Berkley has uncovered and made us all ask the questions that can either make your life work...or not, in one of the most important choices of your life!!!"
Berkley describes himself as "a people's lawyer--a Dr. Phil type of attorney who listens to a problem, and based on his considerable experience with troubled marriages, gives the kinds of advice that will solve the problem."
About Author Ben Berkley
Growing up in Long Beach, NY, young Ben Berkley was fascinated by daily black-and-white re-runs of the TV lawyer show Perry Mason. After getting a B.A. in Speech and Hearing from Adelphi University in Garden City, NY, Berkley earned his legal degree from Western State University in Fullerton, CA. For the past 31 years he has conducted a busy general practice which includes divorce, estate planning, family law, social security disability appeals and bankruptcy. During the past three years he has also served as Judge Pro Tem for the Orange County Superior Court. His previous books are: My Wishes: Your Plan for Organizing and Communicating Your Family's Needs; The Complete Executor's Guide and Winning Your Social Security Disability Case.
Before You Say "I Do" Again: A Buyer's Beware Guide to Remarriage
240-page paperback; $14.95; ISBN: 978-0-88391-173-0
Coming out in Fall 2009 from Frederick Fell Publishers, Inc.
Will be available at major bookstores, amazon.com, barnesandnoble.com, borders.com, benberkley.com and fellpub.com
###