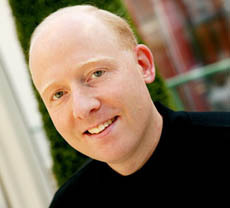 At SES Chicago, this will be my first opportunity to talk about ideas in my new book - about the future of search and discovery
Chicago, IL (PRWEB) September 9, 2009
Peter Morville, author of best-sellers Ambient Findability and Information Architecture for the World Wide Web, will deliver a keynote address at Search Engine Strategies (SES) Chicago 2009, which is being held December 7-10, 2009 at the Chicago Hilton. Morville is also the President of Semantic Studios and blogs at findability.org.
Expected to attract thousands of marketing executives, managers, professionals, specialists and consultants, SES Chicago 2009 will feature more than 50 sessions, multiple keynotes, leading industry service providers, interactive networking events and more. Search engine optimization (SEO) and pay-per-click (PPC) advertising topics at all expertise levels will be included.
During his keynote, Morville is expected to expand on the themes found in his published works, including the idea of findability and the importance of a navigable and friendly user interface.
"At SES Chicago, this will be my first opportunity to talk about ideas in my new book - about the future of search and discovery," said Morville. "In addition to exploring the relationships between information architecture, ambient findability, and search engine optimization, we'll also be covering mobile search, decision engines, augmented reality, and emerging technologies that will change the way we find everything from answers and articles to products and people."
"SES has always prided itself in its ability to attract high-profile industry speakers to keynote at our events." said Matt McGowan, Vice President and Publisher for Incisive Media's Interactive Marketing Group, including Search Engine Strategies, Search Engine Watch and the ClickZ Network. "SES Chicago continues this trend with Peter Morville and the other two keynotes. Peter is a key innovator with ideas that will ensure SES Chicago attendees go away with new strategies for implementing their marketing programs."
To register for SES Chicago and take advantage of the early-bird rate until September 25, please visit: http://www.searchenginestrategies.com/chicago/registration-details.html
About Peter Morville
Peter Morville is widely recognized as a father of information architecture. He has authored the best-selling books, Information Architecture for the World Wide Web and Ambient Findability, and consulted with such organizations as AT&T, Harvard, IBM, Microsoft, the National Cancer Institute, Vodafone, and Yahoo!. Peter is president of Semantic Studios, a leading information architecture and user experience consultancy. He is a co-founder and past president of the Information Architecture Institute and has served on several advisory boards and as a faculty member at the University of Michigan. His work has been featured in many publications including Business Week, The Economist, Fortune, and The Wall Street Journal. Peter, who blogs at findability.org, is working on a new book about the future of search.
About SES
Incisive Media's Search Engine Strategies is a leading global conference and training series focused on search engine optimization and search engine marketing. Other Incisive resources for interactive marketers include the ClickZ network for digital marketing news, information, commentary, advice, opinion and research and Search Engine Watch which provides news and information about search, analysis of the search engine industry and tools for improving search marketing effectiveness.
Incisive Media is a leading global provider of specialized business news and information, in print, in person and online. The company's principal markets include financial services, legal services, commercial real estate, marketing services and risk management. Incisive Media's market-leading brands include Accountancy Age, Computing, Investment Week, Legal Week, Post, Risk, and Search Engine Strategies . For more information, visit http://www.incisivemedia.com.
###