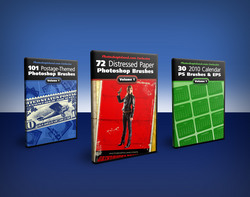 I'm constantly on the web reading articles, blogs and tweets about Photoshop tools and shortcuts. Much of what's out there is either of low quality or it comes with little or no instruction
Kansas City, MO (PRWEB) September 15, 2009
In the 20 years since Adobe released Photoshop, the world's leading image manipulation application, the program has become a fundamental tool for graphic designers and renowned photographers worldwide. With the growing popularity of Photoshop among amateur photographers, digital scrapbookers and hobbyists everywhere, there's increasing demand for not only better training, but also pre-packaged designs and tools that can give beginners and pros the ability to quickly create great-looking documents and images.
Kansas City-based professional designer and web developer Roger Ridpath is pleased to announce the launch of PhotoshopIsland.com, a Web site storefront that features free and low-cost royalty-free, exclusive designs and elements for Photoshop, such as brush sets, actions and stunning layered designs.
These tools, easily imported into the award-winning program, allow users a no-hassle option to give their documents that little something extra to set their work off and avoid the project "blahs."
Ridpath, an Adobe Photoshop Certified Expert, is drawing on his 20 years of professional design experience servicing a wide variety of clients to develop creative tools that will appeal to both professionals and hobbyists.
Faced with a downturn in business during the current economic lull, Ridpath focused on developing the Photoshop tools he'd always wanted. "I'm constantly on the web reading articles, blogs and tweets about Photoshop tools and shortcuts. Much of what's out there is either of low quality or it comes with little or no instruction," said the Photoshop expert. "The current economic slowdown gave me the luxury of time to think about the kinds of design shortcuts and extras Photoshop users like me want. PhotoshopIsland.com fills the void of what's out there now by offering low-cost shortcuts with video tutorials to help users every step of the way."
Ridpath said PhotoshopIsland.com is different from other online resources because each tool is high quality and royalty-free and includes a minimum of two "how-to-use" video tutorials.
PhotoshopIsland.com launches on September 15 with three fun and easy-to-use exclusive collections:
Distressed Background Brushes Vol. 1 - 72 Photoshop Brushes to easily create distressed and grungy high-resolution effects. These brush elements are designed to work great together for a complete and customized finished product.
2010 Calendar Brushes & EPS Files Vol. 1 - Easily create a range of 2010 calendar designs using 30 Photoshop brushes with a variety of fonts and layouts. This set comes with matching EPS files to create calendars of larger than 2500 pixel dimensions, import into Adobe Indesign or edit in Adobe Illustrator.
Postage-Themed Brushes Vol. 1 - Dive into 101 pristine high-resolution (the max possible) Photoshop brushes to easily create postage stamp picture borders in modern and vintage styles. These brush elements work great together for a complete and customized postage-themed design.
Each product is value-priced below $20 so trying them out is essentially risk free. "The price-point is low so users get the most out of their purchase. Once professionals and hobbyists try them out, I think they'll come back for more. What's more, these collections are exclusive, so you won't see them offered elsewhere. They offer a fast, easy way to create fantastic projects without spending a lot of time or money."
To encourage visits during its launch,PhotoshopIsland visitors who sign up for its e-news have a chance to win an Epson PictureMate PM 260 photo printer. Plus, each visitor who signs-up gets a free set of 10 high resolution Photoshop brushes. Giveaway ends at midnight 9.30.09.
About Roger Ridpath - Roger Ridpath is professional graphic designer with more than two decades of experience creating advertising and communications for a wide range of clients. His professional career mirrors Photoshop's history. They both came on the scene around 1989 and over the past two decades developed more and more capabilities and satisfied clients.
After serving as a creative director at a Kansas City-based ad agency that pioneered web development, Ridpath launched his own design firm about 10 years ago. Ridpath Creative Partners is an award-winning group.
Ridpath has worked with Photoshop throughout his career and has always sought ways to get the most out of the innovative software. In the late 90s Ridpath was among the first group of Photoshop users to develop proprietary plug-ins. SmartGif, his most popular plug-in, allowed users to slice a Photoshop file into multiple .gif files. Communications Arts recognized it and MacWeek magazine touted it as one of the first plug-ins to take advantage of Photoshop's layers feature. Ridpath's keen interest in Photoshop -- not just for work, but as a hobby -- led him to earn the difficult Adobe Certified Expert qualification in 2006. Since then he has launched two websites dedicated to Photoshop: CampPhotoshop.com and now, PhotoshopIsland.com.
###