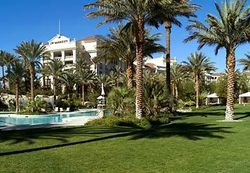 Las Vegas, NV (PRWEB) September 11, 2009
Aquae Sulis Spa at the JW Marriott Las Vegas Resort is designed with the couples experience in mind, from the co-ed areas to the treatment rooms. Couples truly get a chance to reconnect in the outdoor retreat area which includes a whirlpool, sauna, steam room and Hydro-circuit pool. Lunch can be served on the terrace with selections from the spa menu. For those also wanting to work up a sweat, the state-of-the-art fitness center is a great place to work out side-by-side or take in a fitness class.
Tempting couples to book off some quality time together, the Las Vegas Resort's Aquae Sulis Spa in Summerlin introduces the Wine Therapy Package. Available September 1 through to December 31, 2009, the spa package elements include:
50-minute Couples Vinotherapy Massage--
The spa's romantic couples suites are the perfect space to enjoy side-by-side massage. Using Bacchus Body Oil made from a light blend of Mediterranean Olive Oil and Red Grapeseed Extract, couples experience a full body massage that leaves the skin hydrated and refreshed and the body relaxed and soothed.
50-minute Wine Down Pedicures---
While a glass of wine and cheese platter is shared, Aquae Sulis Spa's expert technicians provide the magic touch. This delicious vino-infused treatment is organically designed using Red Grape Skin containing resveratrol. The pedicure begins using Almond-Biscotti Milk Soak followed by a sugar scrub made from an Italian red wine reduction, crushed grape seeds and grape seed oil. Next, a Red Wine Reduction Foot Masque is applied and all of the goodness is sealed in with an application of Almond Biscotti Moisturizer. A color or buff completes this treatment while couples clink wine glasses in celebration.
The Couples Wine Therapy Package at the Las Vegas resort is offered at $380 with a special savings of $140. An 18% gratuity/service charge is not included. Additional discounts cannot be applied and package elements cannot be substituted with other treatments. For more information or to make an appointment, please call Aquae Sulis Spa in Summerlin at 702-869-7807.
About the JW Marriott Las Vegas Resort & Spa: Experience the parallel world of "UN." In Las Vegas, scarcely minutes from The Strip, a parallel world awaits at JW Marriott, providing an unassuming quiet elegance set in uncompromising resort luxury. The guestrooms and suites are unparalleled, the spa is unmatched and the golf … simply unbelievable. With unforgettable dining and entertainment options, unconventional event space and unsurpassed service, a stay at JW Marriott Las Vegas Resort & Spa is unbridled. This is Las Vegas UNstripped!
JW MARRIOTT LAS VEGAS RESORT & SPA: 221 N. Rampart Blvd., Toll Free: 877-869-8777. For more information about this luxury resort in Las Vegas, visit http://www.marriott.com/hotels/hotel-deals/lasjw-jw-marriott-las-vegas-resort-and-spa/
Check out our E postcard at: http://www.lasvegasunstripped.com.
###