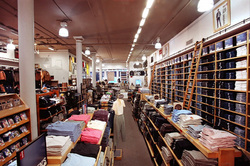 Europeans, regardless of what country they are from, are all looking for the same things--Americans brands, good products and excellent prices. We constantly hear how difficult it is to find Carhartt, Levi's and heavy-duty clothing and workwear at home, and how it is much less expensive here
New York, NY (PRWEB) September 15, 2009
European shoppers fly to America and shop the Internet to buy the iconic American brands for men, women and children. Popular brands include Levi's, Carhartt, Red Wing, Alpha Industries, Woolrich, Timberland Pro, Dickies and Canada Goose. With these brands being marked up to 100% in their home countries, European citizens of the UK, France, Spain, Germany, Italy and even those residents of Canada and Australia are visiting Dave's New York for significant savings. The exchange rate is favorable when switching Euros to US Dollars, meaning that Europeans can inexpensively purchase plane tickets, cover their hotel stays, go shopping, purchase more premium clothing items and still spend less for these items than in Europe.
Despite the economic downturn and nationwide retail sales in an overall slump, business is booming at Dave's New York. The Europeans are making purchases in the Union Square shop as well as online at DavesNewYork.com. With 30% of their traffic originating from European countries, Dave's New York is expanding their website and adding international shipping to capture this revenue stream. "Europeans, regardless of what country they are from, are all looking for the same things--Americans brands, good products and excellent prices. We constantly hear how difficult it is to find Carhartt, Levi's and heavy-duty clothing and workwear at home, and how it is much less expensive here," says Adam Levy, Head Merchandiser and Manager. "They constantly remind us that the same jeans and work clothes available at our shop cost half as much."
According to Dave's New York, winter clothing and outerwear is very popular and customers are ordering early to lock in prices. The Woolrich Men's Artic Parka is available in black and nutmeg and is one of the most popular items. Besides Europeans, Canadians and Australians, the New York City locals are buying this item directly from the store and on the internet, where many clothing items are 33% cheaper than other army and military stores in New York. Some brands like Red Wing are only available for in-store pick-up and not online. Dave's New York facilitates these purchases by employing a multi-lingual staff on the sales floor. Unisex and children's flight and bomber jackets from Alpha Industries are another item considered fashionable in Europe. Many of these jackets cost around $100 and are in season year-round. Jeans and pants for men are another top-seller at Dave's New York, with approximately 60 styles, cuts and colors of Lee, Levi's, Carhartt, Wrangler and other jeans and pants.
Located at 581Avenue of Americas, in the trendy Chelsea area, Dave's New York is a 45-year-old family business that offers personalized service, a multi-lingual staff (English, French and Spanish are spoken here) and an astounding selection of high performance, quality jeans, work clothes, military-style clothing, work boots, shoes, heavy duty clothing and outerwear for men and women. Visit their store or shop online 24/7 and buy clothes at DavesNewYork.com. All press inquires should be sent to info(at)davesnewyork(dot)com.
# # #