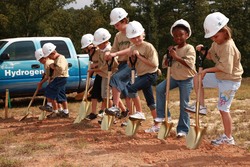 We aren't coming in here from out of town to tell people how to do things
Aiken, SC (PRWEB) September 10, 2009
A team of experts who have assembled the technology to build America's first commercially-available Net Zero Energy house to be powered by solar energy and a hydrogen fuel cell broke ground and began construction today at The Ridge at Chukker Creek residential development in Aiken, S.C.
Aiken County, S.C., is becoming known as Hydrogen County USA because of its remarkable combination of advanced hydrogen technologies and research. The County owns its own $10 million Center for Hydrogen Research (CHR), its own hydrogen vehicle fueling station and a demonstration hydrogen powered pickup truck. Also in Aiken County are the Savannah River Site (SRS) and the Savannah River National Laboratory (SRNL) where advanced hydrogen research has been conducted for nearly 60 years. These entities work closely with, and some are full members of, the South Carolina Hydrogen and Fuel Cell Alliance at the University of South Carolina in Columbia.
The latest advance in renewable energy solutions in Aiken County is inspired by developer Ron Monahan and architect George Watt, who with CHR lead scientist Scott Greenway, Ph.D., have developed the technology to build a house that will have no net energy bill over a year's time and will store its excess solar-created electricity in a hydrogen fuel cell for later use. Other partners in the project include the Economic Development Partnership [solar energy] and Aiken Electric Cooperative. Also affiliated with the project are Aiken Technical College, the Aiken County School System and soon to come on board will be the University of South Carolina Aiken.
The regenerative fuel cell system will move the hydrogen house from being a traditional net-zero energy home toward being an energy independent home. The key to energy independence is energy storage. The regenerative fuel cell system stores solar energy as hydrogen through electrolysis of water in a Proton Exchange Membrane (PEM) electrolyzer. The hydrogen produced by the electrolyzer is stored as a solid in a metal hydride bed designed at SRNL. When solar energy is not available, hydrogen gas is released from the metal hydride bed and is reacted electrochemically in a PEM fuel cell to produce water, electricity, and heat. In addition to providing electrical energy to the house, heat will be captured from the electrolyzer and fuel cell to pre-heat water entering the hot water heater.
A key step in the hydrogen house design is electrical load reduction through energy efficient design. Since renewable energy is currently one of the most expensive design elements, reducing the electrical demand from the heat pump by using spray foam insulation, a smart framing system, and a radiant barrier roof are important design features. In addition, energy efficient appliances were chosen to further reduce the base load on the house.
The hot water from the regenerative fuel cell system should nearly eliminate energy consumption for hot water heating. Additionally, the regenerative fuel cell system will provide hot water for use in heating the house in winter. Since the regenerative fuel cell system provides heat in the winter, it helps reduce electricity usage during peak seasonal grid demand in the region.
The house is the first of many anticipated solar/hydrogen fuel cell houses at The Ridge at Chukker Creek, which by offering such an option to homeowners stakes a claim to being the greenest residential development in the USA. This house will also be a demonstration project designed for thousands of people to explore. It is expected that many engineers, scientists, developers, builders, educators and prospective homeowners who would like to live in an energy independent home, will visit the house during the course of its inaugural year. The developer, architect and other out-of-town team members will stay in the house while they are in Aiken.
The project has extensive political support and many County Council, City Council and legislative representatives were present for the media event as well as leading hydrogen proponents from around the state and leaders of the county school system, Aiken Technical College and USC Aiken .
Organizers emphasized the impact that this use of applying renewable energy to residential developments could have on future generations by inviting school children from nearby Chukker Creek Elementary School to help break ground this afternoon.
Monahan and Watt said they have put together a local team that they say probably could not have come together anywhere else.
John Timmerman of Timmerman Construction, and an employee of The Ridge, will act as the general contractor, while all five of The Ridge's preferred builders will work as a team building the house together. They are Dain Thomas of Riverchase Construction of Aiken, Matt Scoggins of M.A. Scoggins Custom Homes, LLC of North Augusta, Herb Witter of Witter Construction of Aiken, Sean Wolf of Wolf Construction of Aiken and Jason L. Wright of Dreambuilders of Aiken, LLC.
Local vendors hired because of their commitment to energy efficient "Green" building products include: Clay Riddle of AirTight SprayFoam of Chapin, SC, Anderson Windows of Aiken, Boral Bricks of Augusta, Park Avenue Paints who is supplying the no VOC paint, Claude St.
Hilaire, certified Energy Star rater of Smart Energy of Augusta, and Dr. Greenway himself who is supplying the custom-made fuel cell.
"We aren't coming in here from out of town to tell people how to do things," emphasized Monahan. "When we got here and began contemplating this approach we found an incredible synergy of talent and expertise that we were fortunate to be able to bring together.
When George and I do a project we are very serious about buying locally and we generally say within 300 miles. I think the most distant member of this team is from 50 miles away, most are right here and the hydrogen fuel cell is from right down the street! We do not think we could have assembled this team anywhere else."
"And," added Watt, "once these builders build this house together, they will all be qualified to build other such revolutionary houses themselves and will be able to take this technology around Aiken and the state."
"Let's make one more thing very clear," said Monahan. "This is not the house of the future. This is the technology of now. We are doing this today and anybody who wants to live in a house that is totally Green, with absolutely no carbon footprint, can retain any one of these builders and Dr. Greenway and can live their own earth-friendly lifestyle."
Please see previous coverage of The Ridge at Chukker Creek at the News page of our Web site.
Announcement compiled by Eakin-Hale Publicists. More information will be available at the event and by phone and e-mail throughout the week.
Sarah Eakin at (803) 295-2860
Stephen D. Hale at (803) 221-4976
Groundbreaking Today on Country's First Commercially Available Net Zero Solar to Hydrogen Fuel Cell House
Also available for information are:
Ron Monahan, Developer (720) 352-4061
George Watt, Architect - (303) 443-4848, (720) 938-2336
Dr. Scott Greenway, Senior Engineer - (803) 381-1818
###