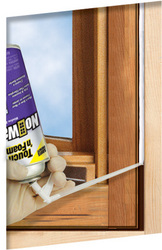 NoWarp a great general purpose sealant because it expands fully to seal gaps and cracks, but won't put undue pressure on window and door frames
St. Louis, MO (PRWEB) September 14, 2009
It's no secret that drafty windows and doors adversely affect a home's comfort level and send energy bills soaring. However, No-Warp Window & Door Sealant, a new product from Convenience Products, the manufacturer of Touch 'n Foam expanding foam adhesive sealants, provides a quick and easy solution to this age-old problem. NoWarp is an expanding foam that is designed to seal and insulate without exerting pressure that can be detrimental to window or door frame stability.
"NoWarp a great general purpose sealant because it expands fully to seal gaps and cracks, but won't put undue pressure on window and door frames," says Bob Tubbesing, vice president of marketing for Convenience Products. "Most foams are inappropriate for use in these areas, because their excessive pressure will warp frames and jambs, rendering the window or door unusable."
A bright white spray foam, NoWarp provides an airtight insulation that blocks drafts, moisture and insects without bowing the frame. The product can be used any place where air might penetrate the exterior envelope or where the pressure from standard foam products could cause damage.
"In other good news for homeowners, when Congress passed the stimulus bill earlier this year, it tripled the tax credit for energy-efficiency home improvements," states Tubbesing. "A tax credit for 30% of the cost of NoWarp is now available on product purchased this year and next." A manufacturer's certificate statement to include when applying for your income tax credit is available at: http://www.touch-n-foam.com/assets/pdfs/TNF_Energy_Credit_Statement.pdf.
Like all Touch 'n Foam products, NoWarp comes with an exclusive "foam saver" nozzle so users can apply the entire can. Touch 'n Foam No-Warp is available nationwide at major discount and hardware stores, and retails for about $6.00/can.
About Convenience Products:
Convenience Products is a division of Clayton Corporation, headquartered in St. Louis, Missouri. Touch 'n Foam insulating sealants help control airflow in and out of homes by filling gaps in the home's exterior or "shell." Air sealing the home this way means you're better able to maintain a consistent temperature year round while enjoying lower utility bills.
###