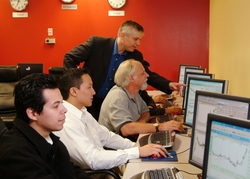 I think it is wonderful that we are able to offer an event that brings many traders together into one arena and share our insights with them. We are excited that we are able to offer this event to people achieve their financial goals.
Castle Rock, CO (PRWEB) September 11, 2009
Online Trading Academy is hosting a one-of-a-kind All-Star Trader Event in Colorado on Tuesday, September 15th. The event is scheduled from 8am to 5pm at the Denver Marriott South at Park Meadows located at 10345 Park Meadows Dr, Littleton, CO 80124. The tuition for this special event is free and includes complimentary lunch.
The All-Star Trader Event brings Online Trading Academy's top trading professionals into one room to share their trading insights and their secrets to successful trading. Topics that will be covered are risk management, technical analysis, using forex to supplement profits, how to become a "Market-Driven Trader" and much more. Get a chance to interact with top trading professionals and get your questions answered. The All-Star ensemble includes Online Trading Academy instructors Brandon Wendell, Sam Seiden, Michelle Volmering, and John O'Donnell, Chief Knowledge Officer.
Brandon Wendell CMT, an Online Trading Academy graduate, has travelled around the world spreading his wealth of knowledge to the trading community at EXPOs and trading events, as a guest on CNBC Asia's Cash Flow, at special seminars for CNBC staff on technical analysis of the financial markets, in published traders magazines, and more. As a former stock broker, brokerage trader and hedge fund trader, Wendell brings a variety of market views and insight into his trading classes and speaking engagements.
Sam Seiden, Director of Online Education, brings over 15 years of experience of equities, forex, options and futures trading which began when he was on the floor of the Chicago Mercantile Exchange. He has served as the Director of Technical Research for two trading firms and regularly contributes articles to industry publications. Seiden has educated hundreds of traders and investors in seminars and conferences.
Michelle Volmering, an Online Trading Academy instructor in Equities, E-minis, Forex, Mastering the Online Trading Platform and Active Investor, has been involved in the markets since the late 90s. Volmering grew up on a cash crop and beef farm which helped her understand the worldwide effects on commodity markets such as wheat, corn, beans, live cattle and feeder cattle. She has individually trained and mentored over 200 students and uses her trading experience to teach students how to use broad market, fundamental and technical analysis to learn how to trade with an emphasis on minimizing your losses.
John O'Donnell is Online Trading Academy Chief Knowledge Officer. His extensive management and consulting experience has been a key ingredient in Online Trading Academy's fast global growth and industry recognition and awards. Mr. O'Donnell was a finalist two years in a row for the "Entrepreneur of the Year" award by Inc. magazine in Orange County, California. He has often been featured on financial web portals and television networks such as CNBC, CNN and MarketWatch. Mr. O'Donnell has also been featured in financial publications such as The Wall Street Journal, Investors Business Daily, Traders Journal and EQUITIES magazine, just to name a few. Mr. O'Donnell is frequently a keynote speaker at global finance expos including Trade2Win, Online Traders Expo, London IX Expos, Brazil Active Traders Expos, World's First Virtual Online Traders Expo, Canadian Financial Forums, and The MoneyShow.
Eyal Shahar, President and Founder of Online Trading Academy, said "I think it is wonderful that we are able to offer an event that brings many traders together into one arena and share our insights with them. We are excited that we are able to offer this event to people achieve their financial goals."
Call 303-325-2776 to register for this event or visit Online Trading Academy for more information about the school.
About Online Trading Academy
Online Trading Academy is a global network of financial education centers focused on teaching students the art of trading since June of 1997. With over 10,000 graduates, Online Trading Academy offers professional instruction from experienced Wall Street professionals, as well as a wide array of beneficial home study materials to supplement classroom study. Online Trading Academy locations include Phoenix, Irvine, Los Angeles, Concord, San Jose, Denver, Orlando, Tampa, Fort Lauderdale, Atlanta, Chicago, Kansas City, Boston, Baltimore, Detroit, Minneapolis, New York City, Secaucus, Charlotte, Austin, Dallas, Houston, San Antonio, Seattle, Washington DC, Milwaukee, Dubai, London, Singapore, and Toronto. For more information, visit Online Trading Academy.
###