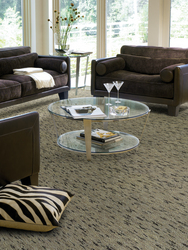 Money invested to upgrade replacement floor covering, particularly in kitchens and baths, prior to reselling a house can be expected to return substantially more than 100% of the cost of renovation
Anaheim, CA (PRWEB) September 10, 2009
One's home is indeed one's castle. In today's economic climate, where uncertainty rules the land, there's nothing more important than protecting the value of your most prized possession in all the kingdom.
The World Floor Covering Association (WFCA), the country's leading advocacy organization for the flooring trade, has spent substantial capital researching residential flooring and consumer purchasing habits. The value of this research is obvious for the trade, but it is also ripe with key nuggets of information to help consumers make smart investments in their home with the goal of increasing and maintaining value.
Anyone who has ever spent time talking to a real estate agent -- and what homeowner hasn't -- knows first hand that there are certain aspects of a house that can increase its value, its curb appeal and subsequently, its sale. One of the most important features of a home is its flooring. Why? Because flooring is typically one of the single most expensive investments a consumer will ever make. It beats roofs, windows and sometimes even room additions. The only other cost that comes close is a full-on home renovation - which usually includes flooring.
Maintaining and increasing the value of your home does not necessary mean replacing your floors. Flooring can be one of the most valuable commodities in a house and also one of the least expensive to maintain and improve. A few simple techniques offered by the WFCA, that cost virtually nothing but your time, may help extend the life of your flooring:

For natural flooring products such as wood, never use ammonia cleaners or oil soaps. They will dull the finish and performance of your floor. These products will also affect the ability to recoat your floor later on down the road.
Since wood naturally expands when it's wet, never wet mop or use excessive water to clean your hardwood floor. Large amounts of water can cause the wood to swell and may cause your planks or strips to crack or splinter. Be sure to wipe up spills on your hardwood promptly.
Pets with long nails can cause dents and scratches on hardwood floors that are not covered by your warranty. Be sure to regularly trim your pet's claws to avoid damage.
You may not realize it but carpet is the largest filter in a home or building. It filters soils, gases, allergens, spills and other pollutants. With this in mind, it is important to vacuum regularly and to use a manufacturer approved cleaning product.
To avoid running into warranty issues with your carpet (and many other types of flooring), make sure you use cleaning products recommended by the floor's manufacturer. Using some cleaners and certain chemicals on your floors can void its warranty. The Carpet and Rug Institute Seal of Approval program identifies effective carpet cleaning solutions and equipment and these products fall within the guidelines of carpet manufacturer warranty programs.
Protect the finish of your laminate, hardwood, carpet and resilient floor from the harmful rays of direct sunlight by using window shades and closing drapes. It's also a good idea to periodically rotate rugs and furniture exposed to direct sunlight so your floors don't develop unwanted "tan lines" and discoloration.
Try to clean up spills as quickly as possible on ceramic floors so that the grout or tile doesn't become stained. Don't use bleach or ammonia-based cleaners, as these products can discolor your grout if used too often. And don't clean glazed tile with oil-based cleaners. While ceramic tile is considered very durable, it's not indestructible and may crack or chip under extreme force.
With ceramic floors, after the installation process is complete and the grout has had ample time to cure, sealing the grout and tile can provide protection from dirt and spills by slowing down the staining process. It's your responsibility to seal your floors -- not the installer's -- unless you request it.
With vinyl floors, avoid using rubber-backed mats or rugs as they can damage and potentially discolor your floor. Instead, use mats or rugs made especially for vinyl floors and remember to treat them accordingly.
With all stone floors, always blot spills immediately. A neutral pH detergent or pure soap, such as Liquid Ivory and warm water, can be used for spills or periodic cleaning. Don't use products that contain lemon juice, vinegar or other acids on marble, limestone or travertine. You should avoid using products that contain abrasive cleaners, cleansers (dry or soft) or any ammonia-based cleaners on any stone. These products will dull stone's luster. Also, don't use scouring powders or bathroom tub & tile cleaners on your stone.
If it's time for new flooring, research shows that the first two areas of a home that potential buyers often look at are the kitchen and the bathroom(s). New floors in these rooms can help seal the deal by making a powerful first impression.
It's a common myth that flooring needs to be expensive to add value. The truth is that kitchens can be patterned with inexpensive floor tiles for a customized effect. Similarly, adding accent tiles in a bathroom can make it appear more finely detailed and expensive than it actually is. And if you do decide new upgraded floors are in order, it's very likely your kitchen and bathrooms do not consume that much square footage, which means relatively small investments in actual flooring product. That translates into big impact for very little cost.
"Money invested to upgrade replacement floor covering, particularly in kitchens and baths, prior to reselling a house can be expected to return substantially more than 100% of the cost of renovation," said Christopher Davis, President and Chief Executive Officer of the WFCA. "For example, if homeowners invest $5,000 to replace worn-out floor coverings and then list their home on the market, they should factor in an extra $10,000 to $15,000 on the selling price. We've seen this time and time again for homes of all values in markets across the country."
In addition to adding curb appeal and increasing your home's value, upgraded floor covering in new homes - when financed into the mortgage - are usually extremely affordable. For every $1,000 spent on upgraded flooring and financed into the mortgage, the buyer's payment typically increases by less than $10 a month. In addition the new floors can usually be written off during the first few years of the mortgage.
The WFCA's website, WFCA.org, offers detailed information about all types of flooring. In addition, the website provides information on caring for all types of floors as well as answers to the most common floor covering questions. An overview of each flooring category provides the pros and cons, a product catalog, manufacturing details, varieties and styles available, things to consider before purchase and how to prepare for installation.
When it's time to buy floors, WFCA.org offers a searchable database of reputable WFCA retail members across the country. All a user needs to do is enter their zip code to receive a list of suppliers in their area.
The WFCA, official sponsor of Surfaces, is the floor covering industry's largest advocacy organization, representing floor covering retailers, contractors and allied service providers throughout North America. The association is a recognized leader in marketing research and industry certification programs and operates the premier consumer flooring website, wfca.org, which provides unbiased information about every type of floor covering and connects customers to member retail stores. The WFCA also influences public policy affecting the floor covering industry and consumers. For more information about the WFCA, visit wfca.org and wfca-pro.org.
###