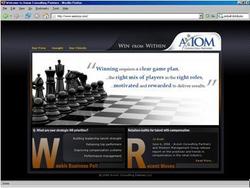 Planning for the New Normal
Chicago, IL (PRWEB) September 10, 2009
Axiom Consulting Partners LLC announced today that WorldatWork, has published its article titled "Planning for the New Normal" in the September 2009 edition of workspan magazine.
"Axiom is delighted to be releasing another important piece of thought leadership by our colleague Juan Gonzalez in workspan magazine," said Steve Strelsin, President -– Axiom Consulting Partners. "WorldatWork is the preeminent organization of total rewards practitioners and we are pleased that Axiom's article regarding a 'new normal', in which investments in people will be treated with the same rigor and importance as other critical strategic investments is gaining traction."
Now is the time to question if the standard assumptions underlying compensation adjustments still make sense. After years of wrangling over performance ratings distributions and looking for ways to meaningfully allocate single digit salary increase budgets, senior executives are becoming intrigued by the possibility of not increasing (or even reducing) the fixed costs allocated to compensation and benefits.
'Planning for the New Normal' is available for download at Axiom's website.
About Axiom Consulting Partners:
Axiom Consulting Partners is a management consulting firm that specializes in hardwiring people to business strategy to deliver improved performance and results. Axiom asks the right questions to uncover and remove disconnects that commonly exist among the boardroom, middle management and front line employees. Axiom's Partners generate insights and develop recommendations for their clients that have a quantifiable business impact.
About WorldatWork:
WorldatWork is the world's leading not-for-profit professional association dedicated to knowledge leadership in total rewards, compensation, benefits, and work-life. Founded in 1955, WorldatWork focuses on human resources disciplines associated with attracting, motivating and retaining employees. Besides serving as the membership association of the professions, the WorldatWork family of organizations provides education, certification, publications, knowledge resources, surveys, conferences, research and networking.
Media Contact:
John Whelan
Director, Market Development
161 N. Clark Street, Suite 4700
Chicago, IL 60601
(312) 523-2090
http://www.axiomcp.com
This press release was distributed through eMediawire by Human Resources Marketer (HR Marketer: http://www.HRmarketer.com) on behalf of the company listed above.
###