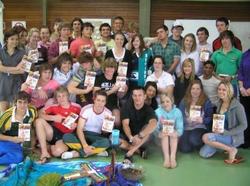 I want to let children around the world know that if I can overcome poverty and abuse anyone can
Olympia Fields, IL (PRWEB) September 10, 2009
Almost 1 in 5 adult Americans lived with an alcoholic while growing up, an experience Steven Murphy knows all too well. Abandoned by his mother, the Australia native spent his childhood in the care of an extremely abusive alcoholic stepmother, while his father was incarcerated. In conjunction with National Alcohol and Drug Addiction Recovery Month this September, Murphy is sharing his story with Americans in hopes of inspiring others who have experienced abuse. "I had a goal to be somebody in life," says Murphy, a retired police officer. "No matter where you come from you can achieve something in life."
Murphy is dedicated to helping teens and children around the world overcome abuse. He recently published his first book, The Pyjama Boy, a haunting story about his painful experiences, struggles and ultimate triumph. The title was derived from a nickname Murphy's neighbors and classmates gave him because he was forced to buy cigarettes for his stepmother every afternoon while wearing nothing more than his pajamas-- just one example of the abuse and humiliation Murphy endured.
In addition to the physical and verbal abuse he suffered, Murphy's book also details how he lived in absolute squalor. He recounts how his stepmother rarely cleaned the house so dog and human feces, cigarette butts, cockroaches and spoiled food littered their living space. Because he was rarely allowed to go outside, he was forced to spend much of his youth confined to these conditions.
To accompany his heart-wrenching memoir, Murphy has created a mini-documentary that vividly captures the trauma of his upbringing. On the video, viewers witness an emotional commentary from Murphy and see raw footage of his stepmother (who still lives in squalor even today) and photos from his childhood--all of which painfully validate his story.
Murphy admits that while he has achieved many goals despite his childhood experiences he still struggles psychologically and emotionally. His mission, however, is to deliver a global message of hope. "I want to let children around the world know that if I can overcome poverty and abuse anyone can," Murphy said.
Statistics from the National Association for Children of Alcoholics and the Substance Abuse and Mental Health Services Administration powerfully illustrate abuse in the US:
•Seventy six million Americans, about 43% of the U.S. adult population, have been exposed to alcoholism in the family.
•The cost of alcoholics to society is estimated at more than $166 billion each year.
•There are an estimated 26.8 million children of alcoholics in the United States.
•Children of alcoholics are four times more likely to develop alcoholism.
•Almost 12% of children under 18 years of age live with at least one parent who was dependent on or abused alcohol or an illicit drug during the past year.
Steven Murphy has shared his inspirational story on many television programs across Australia. He also speaks at schools and community groups about overcoming obstacles and achieving dreams. Learn more about Murphy at http://www.ThePyjamaBoy.com.
###