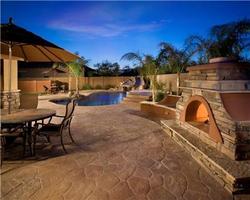 Calimesa, CA (Vocus) September 11, 2009 -–
ConcreteNetwork.com now features today's hottest trends in concrete with its Picture of the Week feature, highlighting some of today's most innovative decorative concrete projects. An archive of previously featured photos exhibits some of the best decorative concrete projects from around the US and Canada. The archive allows homeowners, designers and contractors to conveniently browse through numerous featured photos to find exactly what they are looking for.
Due to the constant stream of photos submitted to The Concrete Network by contractors from around the country, it became obvious that there was a need to highlight those projects at the forefront of innovation. As a result, each week the site features a new decorative concrete project on its homepage as the Picture of the Week.
The site has also created a photo archive including several of the past featured projects.
Photos typically feature a variety of decorative concrete trends including decorative stamping, staining, coloring, texturing on interior concrete floors, pool decks, patios, driveways, concrete countertops and furniture, and many more.
As the attraction to concrete, and its decorative capabilities continues to grow, and contractors continue to strive for new, pioneering ways to meet specific customer needs, The Concrete Network will continue to provide information on the latest trends in concrete.
Photos are submitted to The Concrete Network by contractors around the US and Canada, and are intended as design ideas only and may not be reproduced or published without permission.
Established in 1999, The Concrete Network's purpose is to educate consumers, builders, and contractors on popular decorative techniques and applications. These include stamped concrete, stained concrete floors, concrete countertops, polished concrete, and much more. Over 10 million people visit ConcreteNetwork.com per year to research, get ideas and to find a contractor.
The site excels at connecting buyers with local contractors in their area through its Find a Concrete Contractor service. The service provides visitors with a list of decorative concrete contractors throughout the U.S. and Canada, and is fully searchable by more than 20 types of decorative concrete work in over 200 regional areas throughout North America.
Article photo courtesy of Progressive Concrete Works Inc in Phoenix, AZ. Attached photo courtesy of Betonas in Garrison, NY.
###