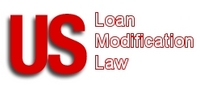 Miami, FL (PRWEB) September 10, 2009
http://www.UsLoanModificationLaw.com launched their new Loan Modification Laws website with the goal of helping consumers and businesses with the loan modification process by providing them with accurate and up to date information of each state accompanied with compliance and regulations information for each state.
In today's economy many Americans are facing foreclosure and the only place to turn seems to be in the direction of getting a Loan Modification, but with so many different companies offering Loan Modifications and all the different price points it is hard to know which way to go. But with a copy of the State Loan Modification Laws at hand you'll have the knowledge of knowing what the possibilities are and be better prepared for the loan modification process.
With the need for Loan Modifications rising more and more every day, it brings more and more room for companies to start aiding and helping Americans through this process. When a company wants to offer loan modifications to their clients the first thing they need to do is become familiar with the Loan Modification Law which differs from state to state. Having these laws close by is crucial to a companies compliance and overall future in the loan modification industry.
Under President Obama's Loan Modification Plan 75 billon dollars have been allocated to help struggling home owners stay in their house and keep the housing market from continuing to plummet. However, over 50% of the loans modified in the first quarter of 2008 went bad on their payments. Specialists say this is because early loan modifications were not properly engineered to work. This is why it is so crucial for consumers seeking out loan modifications and Loan Modification Companies to stay up to date with the Loan Modification Laws of their state.
The main driving factor behind a loan modification is to reduce the homeowners' monthly payment, helping them afford to stay in their home. The past actions of the lending market have lots of Americans facing rising interest rates because their loan's fixed period has run out or they were given a negative amortizing loan with a minimum payment of 1-2% until the end of five years when the loan recasts. Then at such time the homeowner is not prepared for the huge rise or increase in their payment
http://www.usloanmodificationlaw.com/ believes it is very important for consumers and business to know all the states' laws in order to provide the best preparation for the best possible loan modification. UsLoanModificationLaw.com hope their website will be a service to all in need.
###