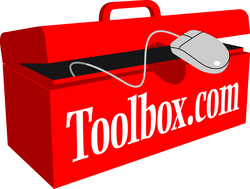 Scottsdale, AZ (PRWEB) September 10, 2009
Toolbox.com, the operator of online communities for professional knowledge sharing, today announced that co-founder and president, George Krautzel, will deliver the keynote speech to open the afternoon session of the Lift Summit in Atlanta, Georgia on September 15, 2009.
During the keynote, Mr. Krautzel will examine how online communities have evolved from resources where professionals turned for quick-fix answers to workplace problems, to repositories of best practice information, to their current iteration as places where professionals can build their personal brands for career advancement. This keynote will also examine how B2B service providers have experienced a similar evolution in their role in professional online communities, moving from one-way promotion to generating advocacy through engagement.
Lift: The B2B Social Commerce Summit is co-sponsored by OfficeArrow and the Wharton Interactive Media Initiative. To view the full agenda for the Lift Summit, visit: http://www.liftsummit.com.

Who: George Krautzel, Co-Founder and President, Toolbox.com
What: Keynote Speech, LIFT: The B2B Social Commerce Summit
When: Tuesday, September 15, 2009, 1:00-2:00 PM EDT
Where: The Georgia Tech Hotel and Conference Center, Atlanta, GA
To schedule an interview with George Krautzel during the Lift Summit, please contact Bill Conn at ittoolboxpr@toolbox.com.
About Toolbox.com
Toolbox.com helps professionals do their jobs better by enabling them to easily share knowledge with experienced peers. The online communities at Toolbox.com include professional networking, blogs, discussion groups, wikis, and a vendor research directory through which executives and professionals collaborate to solve problems, make decisions, and increase workplace efficiency. Through the community, advertising partners can engage prospects and customers either directly or by integrating their message through a proprietary contextual matching engine. This combination of community and advertising value has made Toolbox.com a leading destination for professionals and a leader in online advertising. Toolbox.com is a division of Corporate Executive Board (NASDAQ: EXBD). For more information, visit http://www.toolbox.com
About Corporate Executive Board
The Corporate Executive Board (NASDAQ: EXBD) drives faster, more effective decision-making among the world's leading executives and business professionals. As the premier, network-based knowledge resource, it provides them with the authoritative and timely guidance needed to excel in their roles, take decisive action and improve company performance. Powered by a member network that spans over 50 countries and represents more than 80% of the world's Fortune 500 companies, the Corporate Executive Board offers the unique research insights along with an integrated suite of members-only tools and resources that enable the world's most successful organizations to deliver superior business outcomes. For more information, visit http://www.exbd.com.
###