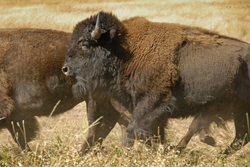 It's been amazing to watch this event grow in popularity over the years. The Buffalo Roundup really showcases the beauty of the Black Hills and is one of our most popular events during the season
Pierre, SD (Vocus) September 11, 2009
Starting Sept. 26, the Black Hills and Custer State Park come alive with events ranging from arts festivals and historic reenactments to chili cook-offs and old-time fiddlers, all centered around the annual roundup of the park's nearly 1,500 bison.
"It's been amazing to watch this event grow in popularity over the years. The Buffalo Roundup really showcases the beauty of the Black Hills and is one of our most popular events during the season," said Richard Benda secretary for the Department of Tourism and State Development.
The event has captured international attention due to its unique nature and historic, western flavor. Enjoy the action as park workers in pickups and riders on horseback herd buffalo past viewing areas into the corral area. You can feel the ground tremble from the thunder of their hooves as they stampede past. The sights, sounds and flavors create a must-see event.
The roundup is the first step in preparing the herd for the November Buffalo Auction. Custer State Park can typically support about 1,000 animals over the winter, so surplus buffalo are sold at a late-year auction. Bison, which once faced extinction, now number 500,000 strong across North America, and Custer State Park is home to one of the largest publicly-owned herds.
"The combination of watching the leaves change, the crisp autumn air and the Old West experience keep people coming back year after year," said Melissa Bump, director of the South Dakota Office of Tourism. "Many people are finding that fall is a perfect time to experience all that South Dakota has to offer, and a family-friendly location like Custer State Park is the place to do it."
Travelers and visitors wishing to make travel arrangements or find a travel package designed for them will discover an invaluable resource in the travel planner feature on http://www.TravelSD.com.
###