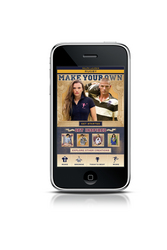 Make Your Own Rugby Gallery
New York, NY (PRWEB) September 10, 2009
Polo Ralph Lauren Corporation (NYSE: RL) today announced an addition to their Ralph Lauren Collection App with the launch of the Rugby App.
This unique app will enable consumers to make their own Rugby directly from their iPhone™ and iPod™ touch. Consumers can customize with patches, share and order their own Rugby styles within the app.
Following up on the successful launch of rugby.com and m.rugby.com, Polo Ralph Lauren has launched another integrated 360-degree retail innovation platform that engages the customer through mobile, in-store kiosks and outdoor display content via interactive store windows, and online.
The app aligns with the way consumers are expressing themselves and sharing their views, creativity and interest with family, friends and even strangers. Enabling customers to create, customize and define how they are using the technology to drive their own social currency and relevancy amongst their peer group is a key differentiation point for the app.
"Our goal is to put the fun and innovative lifestyle of Rugby into the hands of our customers and allow them to integrate their own personal style into their clothes. iPhone™ provides us with a unique opportunity to engage the consumers with a truly, customizable platform to create and share their personal connection to the brand," said David Lauren, senior vice president of advertising, marketing and corporate communications.
Users will enjoy one of the most unique interactive app experiences available via iPhone™ OS 3.0, including new, innovative customization opportunities and cross platform shareable functionality.
Features include:

Consumers can choose a standard experience or a more creative experience that allows them to customize their Rugby shirt with iconic Rugby patches - including the new alphanumeric and varsity patches -- wherever and however they like.
Also unique to this app is the opportunity to create the perfect look that compliments not only the customers' personality, but also physical appearance - for the first time a luxury retailer has created an app that provides a complete customization process and 'order your creation' capability. Users can upload their own photo (or use a default model image), change the color of the body and tone of the skin color, choose a hairstyle, and create a custom background so that they can model their shirt against a lifelike image of themselves for the ultimate "Make Your Own" experience.
Create, design and SHARE - users will be able to share their look cross platform via Facebook Connect, via email, or within the Rugby Gallery, which will distribute the look to Rugby.com, the interactive store windows, and within the app.
Consumers can view all creations in the "Make Your Own Rugby Gallery" as well as rate and purchase each other's looks. The creation with the highest rating will be featured as the "look of the day" in the gallery.
Those passing by Rugby stores in select markets can preview all of the designs via the interactive store windows. Through the interactive touch screen interface, consumers can scroll through all of the designs to preview, rank and purchase their favorites.
The Rugby App will be available for free from the App Store on iPhone™ and iPod™ touch or at http://www.itunes.com/appstore.
ABOUT RUGBY
Rugby Ralph Lauren is an apparel and accessories brand targeted to an 18-25 year old customer. Casual campus style meets downtown/urban prep at Rugby. Rugby's authentic rugby shirt is the signature of our brand, a symbol of our classic, sporting heritage. Rugby offers apparel and accessories for everyday wear--rugbys, polos, chinos and oxfords and unique pieces like jackets, denim, dresses and outerwear--at the edge of prep. Rugby is for the individual with a style that is youthful and at times, irreverent. The Rugby story began in October 2004 with our first store on Newbury Street in Boston. Today, Rugby has 11 stores from East Hampton to San Francisco with a flagship at 99 University Place, New York City, an ecommerce site at http://www.rugby.com as well as mobile commerce at m.rugby.com.
###