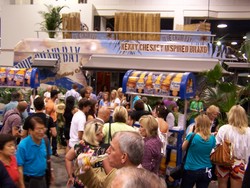 We were looking for something innovative and creative that would complement our Kenny Chesney inspired brand and also something that would draw huge crowds
Las Vegas, NV (PRWEB) September 11, 2009
Blue Chair Bay, a Kenny Chesney inspired brand of premium quality clothing, selected a unique platform to introduce its new apparel line at the Menswear at Magic trade show in Las Vegas - a customized Airstream SkyDeck coach. According to Susan Marra, Blue Chair Bay VP of Merchandising. "We were looking for something innovative and creative that would complement our Kenny Chesney inspired brand and also something that would draw huge crowds", said Marra. "The Airstream SkyDeck did just that and made our Blue Chair Bay launch a huge hit at the show" Marra commented.
The Airstream SkyDeck is one of the staples of the i2i Mobile Marketing fleet, normally used by major brands at NFL, NASCAR and other events. According to Scott Hughes, i2i President, "we're extremely honored that Kenny's new brand, Blue Chair Bay selected i2i Mobile Marketing to be part of their major launch".
Susan Marra raved about i2i, "i2i is really the best of the best" Marra commented, "they get it and they provide outstanding support and awesome coaches like the SkyDeck".
i2i Mobile Marketing is a "behind the scenes" mobile marketing company for brands, agencies, and entertainers.
The Blue Chair Bay launch continues with the fully wrapped customized Airstream SkyDeck heading to Charleston, SC for a Kenny Chesney concert on September 12th. Stops are planned along the way in Dallas, Nashville and other cities.
http://www.i2imobilemarketing.com
###