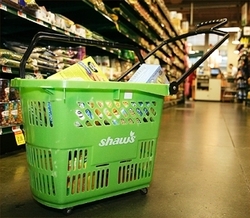 They promote more items being purchased
Boca Raton, FL (PRWEB) September 22, 2009
Carry 'n Roll is a next-generation shopping rolling basket, a rolling shopping basket that can be wheeled or carried as required.
The new rolling basket, which has been written about in publications like Boston Herald & Progressive Grocer, helps supermarket & retail chains by providing a more comfortable shopping experience for customers.
"This allows our customer the possibility to move inside the store without having to carry all the items in their hands with the handheld baskets," Shaws spokeswoman Judy Chong said. "When you're picking up a half gallon of milk and two-liter bottles of soda, it gets heavy."
According to SCS Plastics, another big benefit of being able to pull the Carry n' Roll baskets is that they prompt some shoppers to load them with more groceries, instead of perhaps heading to the checkout when carrying them becomes fatiguing.
"They promote more items being purchased," said George Braeunig, VP Sales & Marketing SCS Plastics in Boca Raton, Fla.
About SCS Plastics
Based in Boca Raton, FL. SCS Plastics with its integral partnership with Norwegian Superbasket Plastic AS; produce products with their goal is to exceed the market's expectations thanks to the proactively, dynamics and hands-on testing of its management team.
SCS Plastics clients include retail companies like Staples, SuperValu, Roundy's, Wegmans, Shaws. For more information, visit http://www.scsplastics.com.
Media/Marketing Contact:
Lisa Aliamo
1-561-509-5333
# # #