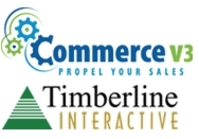 Our team was already working in the CommerceV3 environment to grow orders and sales for many of our clients
Middlebury, VT (PRWEB) September 12, 2009
Fast-growing ecommerce shopping cart provider CommerceV3 and leading online marketing agency Timberline Interactive today announced a merger. The combined company will unite a proven online store platform with a vast array of ecommerce marketing services.
"Our team was already working in the CommerceV3 environment to grow orders and sales for many of our clients," says Bud Reed, founder of Timberline. "In many ways, this merger was driven by our focus on the customers. It gives them even more technology options and streamlines website launch and development processes."
Reed, who launched Timberline Interactive ten years ago, is retiring from day-to-day operational duties but will continue in an advisory role to provide strategic direction for the combined companies.
CommerceV3 president Nathan Focht rarely gets excited, but he recognizes a new and unique opportunity for merchants. "The CV3 platform has always had a strong feature set to help customers grow their sales, but this merger puts us way ahead of the curve. Tom Funk and the rest of the team at Timberline are masters at tuning web stores for maximum growth. They have a huge playbook for making money online."
Blake Ellis, who co-founded CommerceV3 with Nathan, will serve as the new president of Timberline. Ellis is a serial entrepreneur who has been involved in several Internet start-ups over the years, including CommerceV3, Rails Machine and ResEngine.com. "Timberline brings a wealth of experience to the table, especially their work launching sophisticated sites and growing revenue for large merchants with complex needs. CommerceV3 provides a strong, affordable technical foundation. Together we offer a high octane growth solution to merchants large and small -- a combination you can't find anywhere else in our industry."
Tom Funk will serve as VP of Marketing for the new organization. Funk has been with Timberline for three years and before that worked as Web Manager for the Vermont Teddy Bear Company, where he managed sites doing $46 million a year in e-commerce sales. He is a frequent speaker at Internet Retailer, Shop.org and other industry events and is the author of the book Web 2.0 and Beyond: Understanding the New Online Business Models, Trends, and Technologies.
"Today, businesses need to take advantage of every online revenue source: paid search, SEO, email and more. But their success also depends on the features and flexibility of their e-commerce platforms," says Funk. "This deal brings together two leading e-commerce companies who can now offer both pieces: the online marketing services to drive traffic and the online store or shopping cart technology to convert it to sales."
"CommerceV3 meets even complex customer requirements straight out of the box," says Deb Brisson, Timberline's VP of Software Development. "And when we need to go further, we utilize TI Commerce." TI Commerce is an entirely customizable ecommerce platform [customizable ecommerce platform] built using the Microsoft .NET programming environment. "With CV3 and TI Commerce, we have more technical flexibility than any other provider in the industry, period."
"This is big news in multi-channel and direct marketing circles," says Scott Weaver of Atlanta-based Colinear Systems, a software firm specializing in order management software for large retailers. "Anybody who has searched for products on Google and shopped online has probably encountered the work of these two firms without knowing it. They're the folks behind the scenes who make finding products and ordering online a smooth and easy process. This is a great opportunity for their existing customers as well as any merchants who want to thrive on the web."
About Timberline Interactive
Timberline Interactive is a leading online marketing and development company specializing in ecommerce solutions for direct marketers and catalogers. They are experts in all aspects of online marketing, including search engine optimization (SEO), paid search campaign management, e-mail campaign management and site usability optimization. Timberline's clients include Wine of the Month Club, Dinn Trophies, Lake Champlain Chocolates, American Meadows, Terry Precision Bicycles and others.
About CommerceV3
CommerceV3 (CV3) is a web-based system that allows users to create, populate, customize, maintain and track ecommerce storefronts. It makes selling online as easy as possible, without sacrificing real power. Designed from the ground up for direct-mail merchants, CV3 is PCI-compliant and features integration with order management packages as well as tools to customize pages, drive traffic, manage online inventory availability, process orders, and track revenue. CommerceV3 powers hundreds of storefronts for merchants across the U.S. and Canada.
# # #