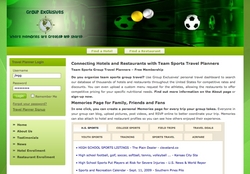 Hollywood, CA (PRWEB) September 12, 2009
GroupExclusives.com offers collegiate, youth, amateur and association team travel planners a fun and creative way to receive cost and time saving bids direct from hotels and restaurants. With the introduction of the restaurant RFP functionality, the site now offers complete hotel and meal solutions to traveling sports teams.
Team travel planners can use the site at no cost to shop both hotels and restaurants in the city they are traveling to. The planner receives multiple bids, via the sites Travel Dashboard, to not only house the team, but also for the best deal in surrounding GroupExclusives.com Restaurants Travel Planners simply search restaurants in the destination city by either distance from hotel, cuisine, or "Recommended by My Chosen Hotel" and the results are delivered in a creatively organized RFP response form that can be share with the team and coaches.
"I am excited about the addition of the restaurant Request for Proposal (RFP) functionality. Combining an online hotel RFP tool with search as well as RFP functionality for restaurants is truly revolutionary," explains Jimmy Legg, creator of the website.
Legg remarks, "GroupExclusives.com is quite unique with this function as restaurants can only be listed by the referring hotels. This personal referral, of sorts, offers the travel planner added value in that they can rest assured that the restaurant is a recommended establishment."
"With the introduction of GroupExclusvies.com, Collegiate sports travel planners across the country will conserve upwards of 800,000 hours planning hotels stays and meal solutions per year, that's the equivalent of 384 full time employees! When you consider this calculations is only based on Collegiate sports travel, and you start to calculate Youth, Amateur and Association sports travel groups, this number becomes astonishing, a site with these options has been long overdue," Legg adds.
About http://www.Groupexclusives.com :
GroupExclusives.com offers sports travel planners a website to send and receive requests for proposals direct to and from business operators of hotels and restaurant for the business end of the web site. Also included for the fun side of the web site is Group Exclusive Memorys allowing teams to create their own social networking website to blog and share videos of their trip or game experience. For full details visit the about section of http://www.GroupExclusives.com .
###