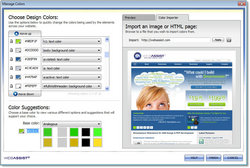 We have taken our most popular Dreamweaver extension and created the ability to generate unique CSS layouts with advanced UI capabilities styled to fit your exact design requirements
San Diego, CA (PRWEB) September 14, 2009
WebAssist, the leading provider of Dreamweaver Extensions and pre-built PHP solutions for the Web professional announces the release of their newest extension, Eric Meyer's CSS Sculptor 3. Like previous versions, CSS Sculptor gives Dreamweaver users the ability to quickly create CSS layouts that are cross browser compatible and standards compliant. Cyndy Cashman from Layers Magazine states, "Eric Meyer's CSS Sculptor is one of those Dreamweaver extensions where you might find yourself saying, I don't know how I got anything done without it."
Enhancements to CSS Sculptor 3 include a revolutionary color manager and newly added support for integrating Spry, Adobe's component framework for Ajax. With the color manager, users have the ability to quickly change the color styles of all elements across their site with the click of a button. Additionally, users also have the ability to import an image or an existing web page to sample colors from. For those users who would like to add Ajax powered web pages to their site without having to know Java Script, CSS Sculptor 3 can enable you to present additional hidden content without requiring full page refreshing. Included with Spry support is the ability to easily add advanced elements such as collapsible, tabbed and accordion panels.
"We have taken our most popular Dreamweaver extension and created the ability to generate unique CSS layouts with advanced UI capabilities styled to fit your exact design requirements," said Michael Lekse, Vice President of Sales and Marketing at WebAssist. "With the release of our new subscription based program, the WebAssist Extension Library, Dreamweaver users can now automatically gain access to Eric Meyer's CSS Sculptor 3 and our entire suite of extensions for a very low monthly rate."
About WebAssist.com Corporation WebAssist helps web designers and web developers build better websites faster by offering the industry leading Dreamweaver extensions and PHP Solutions needed to succeed and excel on the web. WebAssist hosts a thriving community of over 300,000 web designers, web developers, and business owners who build websites on a regular basis. Some of WebAssist's most prominent partners include Adobe, Microsoft, and PayPal.
Press Contact:
Michael Lekse
VP, Sales and Marketing
+1 858-768-6600 x111
mlekse@webassist(dot)com
WebAssist.com Corporation
http://www.webassist.com
# # #