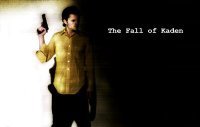 New York, NY (PRWEB) September 12, 2009
CJP Digital Media (http://cjpdigital.com), a specialized new media and entertainment practice group within CJP Communications, today launched The Fall of Kaden, the latest original Web series to be released by the marketing communications firm's digital entertainment studio.
Created and produced by production and creative services shop Tape 6, The Fall of Kaden is a dark, cinematic drama that follows its title character, a paranoid loan shark out to exact revenge on the wildcard gambler who disappeared with his money. Tape 6 co-founders and Kaden creators Matt Doubler and Adam Leiphart met on the set of the since-canceled Fox drama, Prison Break during that shows first season when both were working as stand-ins for series star Wentworth Miller. The ten-episode script was co-written by Doubler and Leiphart from within actual prison cells during breaks in production.
Beginning today, the first of Kaden's ten episodes will run across popular video portals including AOL, blip.tv, DailyMotion, Facebook, Yahoo Video, YouTube as well as at http://fallofkaden.com. Kaden's series opener premiered Tuesday exclusively on KoldCast TV as part of a broader licensing agreement reached between CJP Digital and the Web TV Network, in which KoldCast will have a 48-hour exclusive on new episodes and will further syndicate Kaden to iTunes, the Zune marketplace and later this year to TiVo® set-top boxes as part of the company's existing distribution deals.
# # #