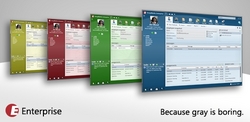 It has given us a competitive edge through the ability to adapt our software to the business process.
Saint Paul, MN (PRWEB) September 14, 2009
The recession has not been kind to Cleveland. A longtime leader in the manufacturing and industrial sectors, Northeast Ohio has been particularly hard hit, with the sixth highest unemployment rate in the country. Like the winds whipping in from Lake Erie, the economic downturn has left a chilling path in its wake, with few bright spots on an otherwise bleak horizon.
Fortunately, staffing industry leader The Reserves Network (TRN), headquartered in Fairview Park, OH, has weathered the trend, experiencing the kind of success in 2009 rivaling that of local legend LeBron James. While many of its competitors have experienced dramatic declines in job orders, leading to major layoffs and balance sheets dripping in more red ink than Indians' mascot Chief Wahoo, TRN forecasts approximately a 10% year-to-year growth in revenue, from $73 million in 2008 to a projected $80 million in 2009. Of course, this is not only good news for TRN, but also for the hundreds of job seekers they have helped place, ensuring a workforce that keeps working.
It's all par for the course for TRN, which has a 25 year track record of success based on a single, fundamental principle of customer satisfaction, providing unfaltering customer service that keeps its clients coming back, even during the recent economic downturn. It's a recipe that has led to its growth from a single branch office founded in 1983 to a regional powerhouse with 35 offices throughout the Upper Midwest and Southeast.
TRN recently announced its five year forecast, with anticipated revenues growing approximately 200%; should TRN meet its projections, by 2014, the firm will net between $150-200 million annually. For most privately held, small cap companies, this sort of explosive growth would seem to come as a mixed blessing. TRN, however, is unlikely to experience growing pains due in large part to their partnership with Minnesota-based Tempworks Software.
Since becoming a Tempworks client in 2003, TRN has placed its integrated suite of staffing solutions at the crux of its front and back office operations, which TRN leadership credits as an integral part of their astounding growth.
"Partnering with Tempworks has contributed to our current success," says Chief Operating Officer Neil Stallard. "It has given us a competitive edge through the ability to adapt our software to the business process."
For a company founded on the principal of outstanding service, TRN has managed to retain its client-centric orientation, and Stallard believes that Tempworks has allowed TRN to utilize the same high touch approach it enjoyed as a single branch office.
"One major reason we went with Tempworks was because of all the custom changes that Tempworks was able to make for us," Stallard said. "This has given us the chance to work with a variety of clients, and keep them as customers for many years."
Tempworks EVP Cory Hintz reports that the growth of TRN is a shared success, and one on which the staffing software leader prides itself upon. "When we see long standing customers that are not just stable, but growing, we feel like we've done our job by providing the necessary tools," Hintz said.
About Tempworks Software
Tempworks Software, incorporated in Minnesota in 1997, provides a full suite of enterprise staffing solutions. Designed to automate and streamline all facets of a staffing firm's daily operations, Tempworks Software offers fully integrated front and back-office staffing software, allowing turn-key service for customers, employees, applicants and vendors. With its offerings including recruiting, payroll, and everything in between, TempWorks Software puts technology to work for staffing firms and their clients.
Additional information about Tempworks can be found online at http://www.tempworks.com or by contacting Laura Baratto, Director of Operations, at 651-452-0366.
# # #