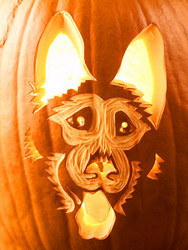 New York, NY (PRWEB) September 11, 2009
Readers of Better Homes and Gardens magazine and visitors to BHG.com can unearth free pumpkin carving stencils, including ones of favorite dog breeds, just in time to carve their jack-o-lantern. They can also scare up lots of ideas for spooky Halloween decorations, parties, recipes and crafts well before the holiday is celebrated on October 31.
BGH.com Senior Holidays Editor Debra Steilen said, "We want to ensure that everyone enjoys great holidays without the hassle. So, we've created some free pumpkin stencils, including a series inspired by the American Kennel Club's list of top breeds. We've also dug up several indoor and outdoor docorating ideas, used graveyards to inspire a few scary Halloween party ideas, and brewed a batch of Halloween recipe ideas. All you need to do is find the courage to read our scary stories."
The Halloween stories in Better Homes and Gardens and BHG.com include:
Free pumpkin carving stencils: Carve a spooky scene with our creative ideas and stencils. This includes free pumpkin carving stencils of favorite dog breeds. Let your friends and neighbors know which dog breed is best by carving a Halloween pumpkin that looks like your favorite canine.
Indoor and outdoor Halloween decorations: Set the mood throughout the house with these eerie decorating ideas. And make your yard the spookiest one on the street this Halloween.
Halloween parties: Throw a frightening bash with our collection of spooky party ideas.
Halloween recipes: Create spooky fun for your guests with our memorable Halloween menus and ghoulish recipes.
Halloween crafts: Include kids in the fun with these easy projects and decorations.
About BHG.com
Developed by the experts at Better Homes and Gardens, BHG.com is the premiere home and family site on the Web, and the interactive companion to Better Homes and Gardens magazine. BHG.com is for people interested in turning home, cooking, and gardening inspiration into action.
BHG.com is focused on decorating, building and remodeling, crafts, entertaining, cooking, and gardening. It also has extensive information for women and families. In addition to providing useful tools and advice, BHG.com's trusted experts keep visitors informed on the latest developments and trends around home and garden. BHG.com was designed with real people in mind. It has easy-to-use interactive tools, clear visuals, step-by-step instructions, and money-saving suggestions. It makes life easier and more enjoyable.
###