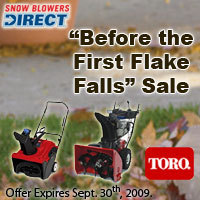 Snow blowers sell faster than playoff tickets during a blizzard
Bolingbrook, IL (PRWEB) September 11, 2009
Snow Blowers Direct - a superstore specializing exclusively in snow blowers - today slashed prices on all Toro single-stage and two-stage snow blowers, encouraging customers to order early.
"Snow blowers sell faster than playoff tickets during a blizzard," said Jon Hoch, founder and CEO. "The key to getting a great snow blowers is to buy early."
Last year, customers were literally turned away during the darkest days of winter because manufacturers couldn't keep up with demand.
"Many customers had no choice but to buy leftovers on store shelves. If you order now, you can get a high-quality Toro snow blower at a reduced price."
According to Hoch, early birds will save $100 on all four Toro Power Max two-stage snow blowers. Various discounts also apply on all Toro single-stage snow blowers.
The discounts won't last forever. The "Before the First Flake Falls" sale expires on September 30, 2009.
###