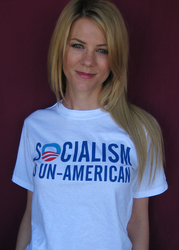 Gainesville, FL (PRWEB) September 12, 2009
Last year people thought Obama t-shirts were cool. Not so much anymore.
Conservative Shirts are the new rage.
Everyone loves a good t-shirt, but t-shirts with a message have always been a lot more fun than just buying some random tee from the mall.
It's true that Obama t-shirts out sold McCain t-shirts back during the election, but now Anti Obama shirts are becoming more and more popular as Obama continues to decline in popularity among Americans.
Everyday there seem to be more and more Anti Obama bumper stickers showing up on folks cars and the old Obama stickers seem to be disappearing at a rapid pace. Why? Has the Hope died? Are people embarrassed to have an Obama bumper sticker now that un-employment rates are at a 26 year high?
It seems that Americans, even those who proudly voted for Obama, are starting to have second thoughts about their President. The energy has died. The stimulus didn't work. And now healthcare is on the table.
Liberty Shirt Market was started to offer conservatives the highest quality conservative t-shirts and conservative bumper stickers at a good price. Since launching in March, Liberty Shirt Market has risen to the top of the heap in releasing edgy Anti Obama Shirts on a regular basis.
One of the differences in LibertyShirtMarket.com, is that all the t-shirts are professionally screen printed verus the cheap one-off digital prints sold by sites like CafePress and Zazzle. Screen Printing is the industry standard for printing because digital printing does not look as good nor does it hold up well. The superior quality and lower prices have given Liberty Shirt Market a major edge over the others.
Some of the best selling conservative shirts are the "Socialism is Un-American" t-shirt with the "O" in socialism being the Obama logo. Also shirts featuring quotes by our Founding Fathers are such as Thomas Jefferson and Benjamin Franklin are very popular. And with the huge coverage of the Obama Joker Socialism poster popping up in Los Angeles and then taking the internet by storm, Obama Joker shirts are very hot.
It's interesting how fast the tables have turned. From love affair with everything Obama to Anti Obama.
Visit http://www.LibertyShirtMarket.com/ to see all of the shirts mentioned and more.
###