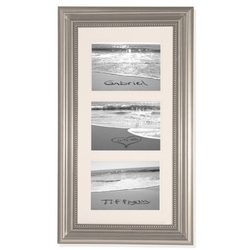 I want to thank you so much for the beautiful pictures. My husband absolutely loved them, my in-laws saw them and thought that was a a really great idea
San Diego CA (Vocus) September 12, 2009
Nature's Notebook combines natural elements and personalization to create elegant art and home decor. This online company was conceived and designed by owner Courtney Noelle, with the intent of sharing her artistic abilities and love for nature with the world.
The inspiration behind Nature's Notebook stems from Noelle's spiritual connection to the ocean and its beaches. She has elevated the elegance and peacefulness of the beach into an art form with her customizable beach prints.
What started out as a fun personal gift idea for friends and family soon blossomed into a career. After listening to the words of pleasure and encouragement from these happy receivers, she took their advice and got down to business. Noelle started marketing her unique personalized prints so that others would have the chance to gift something special.
Names, words, dreams. With so many ways to express a significant moment or memory in a persons life, it is hard to pick the right format, which is what makes Noelle's work so poignant. She strives to capture these times in their simplicity and natural beauty. Her pictures focus on the tumultuousness of where sea meets sand, an image that is soothing and peaceful to most. Dug into the sandy beach are the words or names her customers have requested, making her art completely customizable.
She also offers a wide array of categories buyers can choose from,from anniversary, birthday, wedding, romantic to housewarming, just because, sympathy, office, and religious. The possibilities are endless.
They come as either full color prints, or the ever-classic look black and white look. Shoppers can choose to have them printed on canvas, set in a beautiful black, silver, or white frame, or order only the prints. Like with her photos, the order is completely tailored to the buyer's preferences.
Her products are captivating audiences across the nation and garnering her a reputation for providing quality work and accommodating customer service.
"I want to thank you so much for the beautiful pictures. My husband absolutely loved them, my in-laws saw them and thought that was a a really great idea," said one of Nature's Notebook's satisfied customers.
Her photographs are inspirational and truly from the heart. To see more of Noelle's work go to http://www.naturesnotebook.com
Contact:
ChicExecs PR
http://www.ChicExecs.com
1487 Poinsettia Ave Ste 125
Vista, CA 92081
760.992.9113
ChicExecs PR is an "out of the box" PR company which represents over 70 clients. ChicExecs has created an innovative approach to PR dedicated to helping small-medium business receive media coverage. Our revolutionary automated system is changing the face of PR. To learn more about ChicExecs visit http://www.chicexecs.com.
###