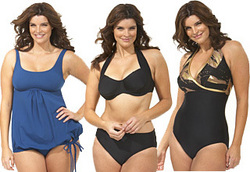 plus size women are at last finding their confidence - they feel beautiful and want more choice.
Sydney, Australia (PRWEB) September 14, 2009
Plus Size Swimwear is the most searched-for category of bathing suits on the net and it is the least catered-to area of swimwear for women. Sue Rice, designer and owner of Sue Rice Swimwear Australia, who has been designing and retailing swimwear for over 27 years, says "plus size women are at last finding their confidence - they feel beautiful and want more choice."
Julie Goodwin, Australia's first masterchef, models Sue Rice's Sarina swimsuit in the September issue of Who magazine. "Julie epitomizes the growing number of women who are happy with their 18+ figures. We are seeing a steady growth in demand for larger sizes." says Sue.
It's only recently that larger women have felt more comfortable about their appearance, perhaps coinciding with the trend towards plus size models in fashion parades and magazines. "It is a healthy and welcome trend towards reality and away from the persistence with the unattainable waif-look" says Sue. The decision by Who magazine to add Julie into their September Body Issue confirms the trend.
Back in the early eighties when Sue started designing swimwear, there wasn't much choice for larger sized women. Like many would-be swimwear designers, she started out designing for the size 8-10 bikini girl, but quickly realized the market was saturated with size 10 bikinis and did not cater to the needs of the very large sector of women over size 14 and with different figure concerns. To learn more, Sue started to make swimwear-to-measure with bust fittings for DD and E cup sized women. "The experience taught me about real women's figures in a way I couldn't have foreseen. They needed more support in areas of the body often changed by age or childbirth." Even though the made-to-measure service eventually came to an end, it served a grand purpose: to provide women over size 14 with more choice.
Now with an established reputation in large bust swimwear from A - E (equivalent to A - G bra sizes), Sue has been gradually increasing her collections from the standard sizes 10 - 16 to now include the 18 - 24 size group in creative yet modest swimwear with bust and tummy support to meet the growing demand of fashion conscious plus size women.
But despite this encouraging trend, many women still find the whole swimsuit shopping experience intimidating, especially those of larger sizes and not as confident as Julie Goodwin. "I want women to know they don't have to feel fearful about trying on swimwear or feeling they have to settle for an unflattering look." With only one store location in Sydney, Australia, it was difficult for many women to access the new styles. The internet provided the perfect avenue. "We had to think of a clever way to make the customer feel confident enough to purchase online" said Sue.
The choice of swimwear on the Sue Rice Swimwear Australia website is divided into "Shops" for different figure types to make browsing easier, but the unique innovation of the "My Size Shop" has proven to be the best way to see styles to fit each individual woman. Once in the "My Size Shop", customers are led to the Sue Rice Size Calculator formulated to match the customer's statistics with the swimsuits. Measuring up is by tape measure and in one click, all the swimsuits in their size are displayed narrowing down the potentially daunting choice and saving valuable time.
The website offers more plus size woman with an opportunity satisfy their new found confidence and feel comfortable about shopping online for a swimsuit.
Nicole from Iowa, USA said:
I want to thank you all for such a wonderful product line. I received my swimsuit yesterday and of course was a little leery to try it on. I had almost given up hope of finding a nice suit that fit and looked good, but that is exactly what you have provided. Following the instructions provided, I slipped right into my new Marilyn/Superpants suit. It couldn't have fit or looked any better.
Thank you for taking the time and effort to make buying a suit so easy and painless! I have searched all over and not found anything that compares to your line in the USA or on the web.
# # #