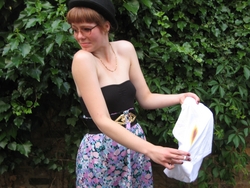 I would request that no one physically mails us any soiled underwear. An intern sorts our mail and given what we do, we have enough problems keeping them as it is
London, UK (PRWEB) September 14, 2009
To celebrate it's improbable third month in business, Easy Tiger Corp today announced a competition to find the world's dirtiest underwear.
According to the Easy Tiger Corp website http://www.easytigercorp.co.uk, "The dirtiest pair of underwear wins £100, a pair of Easy Tiger Corp's Pre-Stained Underwear, and a copy of the classic Japanese toilet training book 'Everyone Poops'. Also your complete lack of hygiene will be immortalised as the design for a limited edition pair of our Pre-Stained Underwear."
People who wish to enter the competition should email photos of their underwear to customer (at) easytigercorp (dot) co (dot) uk with the subject line "Underwear Competition", and specify their country of origin.
"I would request that no one physically mails us any soiled underwear. An intern sorts our mail and given what we do, we have enough problems keeping them as it is," said Philip Watson, Easy Tiger Corp's majority owner and Creative Director.
The competition closes October 30, 2009.
About Easy Tiger Corp:
Easy Tiger Corp makes pre-stained clothing that free people from the embarrassment of having soiled clothing by selling clothes that come already soiled and thus making it a personal decision to wear soiled clothing and not a source of embarrassment. Easy Tiger Corp are most famous for their Pre-Stained Underwear which have skid marks pre-printed in them.
Critical Reaction to Easy Tiger Corp's Pre-Stained Underwear:
"(an) obviously disastrous investment" - Viceland.com
"an utterly disgusting and revolting find" - Trendhunter.com
"Why?" - Londonist.com
"Delightful" - Real Business Magazine
###