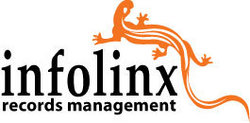 With Infolinx as a Laserfiche PDP member, we can now integrate barcode and RFID tagged physical records into our premiere records management solution. This is of great value.
Kensington, MD (Vocus) September 15, 2009
Infolinx System Solutions, a leading provider of physical records management software, announced a partnership with Laserfiche to provide an integrated enterprise records management solution. The integrated offering manages the full life-cycle of corporate records, regardless of media type, while streamlining the processes for managing documents and workflow.
Scheduled for release in Q1 2010, the solution promises the full featured ECM capabilities of the Laserfiche suite of products, along with the industry leading physical records management features of Infolinx, including barcode and RFID tracking, space management, online requesting and transferring of records, and inventory reconciliation.
"We're extremely pleased to have partnered with Laserfiche" said Tim Butler, Infolinx Managing Director. "Our combined longevity, reputations and industry expertise hold the promise of providing for our clients a truly first-class enterprise records management solution." Professional Developer Partnership™ (PDP) Program Director Alex Wilson said, "With Infolinx as a Laserfiche PDP member, we can now integrate barcode and RFID tagged physical records into our premiere records management solution. This is of great value."
Organizations across North America and Europe, continuing to require contemporary, technology-based physical records management solutions, are realizing immediate return on investment as they migrate from antiquated records management software and processes to contemporary online solutions. The rapid deployment of secure, scalable, browser-based applications like those found in Infolinx WEB are increasingly essential. Having provided records management consultation and software services since 1987, Infolinx has extensive experience partnering with various solutions providers to implement strategic and scalable records management applications.
About Infolinx
Infolinx System Solutions is a leading provider of enterprise physical records management software, professional business services and information management consulting products to a broad range of commercial and government clients worldwide. Infolinx solutions and services manage critical business documents from point of creation through final disposition, offering customers reduced risk and improved operational efficiencies with a verifiable return on investment. Infolinx maintains clients within all major business segments and the public sector. Visit our website Infolinx System Solutions for additional information.
About Laserfiche
Laserfiche® creates simple and elegant enterprise content management (ECM) solutions that help organizations run smarter. Since 1987, more than 27,000 organizations worldwide—including federal, state, and local government agencies and Fortune 1000 companies—have used Laserfiche software to streamline document, records and business process management.
The Laserfiche ECM system is designed to give IT managers central control over their information infrastructure, including standards, security and auditing, while still offering business units the flexibility to respond quickly to changing conditions. The Laserfiche product suite is built on top of Microsoft® technologies to simplify system administration, supports Microsoft SQL and Oracle® platforms and features a seamless integration with Microsoft Office® applications and a two-way integration with SharePoint®.
Laserfiche distributes its software through a worldwide network of value-added resellers (VARs), who tailor solutions to clients' individual needs. The Laserfiche VAR program has received the Five-Star Rating from Computer Reseller News/VARBusiness magazine.
Laserfiche fosters active collaboration among clients, resellers and third-party software developers through our Professional Developer Partnership™ program. On the Laserfiche Marketplace, you'll find detailed descriptions of the integrations, configurations, plug-ins and Web tools created by our PDP members.
Laserfiche is a registered trademark of Compulink Management Center, Inc.
# # #