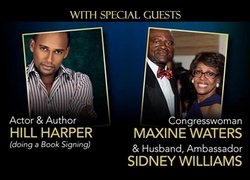 Royal Oak, MI (PRWEB) September 15, 2009
Millions of families across the U.S. are under additional stress now as they struggle during these difficult financial times - especially in Michigan, with an unemployment rate above 15%; the highest in the nation. The combination of relationship conflicts, coupled with financial uncertainty, creates a perfect storm for families being torn apart. As people continue to lose their jobs, homes, savings and struggle under a mountain of debt, they also lose their sense of security, self-esteem and self-confidence. They live in a constant state of fear, uncertainty and quiet desperation.
The Johnson Relationship Institute (JRI) in Royal Oak, Michigan recognizes the need for support and is committed to helping families work together to effectively deal with their personal crises. On Sunday, October 18, 2009 from 3:00 - 6:00 PM at the Tapestry Banquet Center in Southfield, Michigan, JRI will hold its annual "Keeping Families Together Project" and Celebration of Couples Awards Luncheon. The purpose of the event is to raise funds for "at risk" and economically challenged couples from all walks of life in need of relationship intervention to keep their families intact during these stressful times.
The funds raised will provide relationship education, training, and support services to couples in need of support. Couples, whether "in person" or "on-line", will be enrolled in a year long program that will provide the skills needed to reduce their level of conflict and to work together effectively. They will be empowered to work through these difficult economic times, by strengthening their bond, navigating challenges, and enjoying the success of their collective efforts.
For over 33 years, Melva and Jesse Johnson, Co-Founders and Co-Directors of the Johnson Relationship Institute, have devoted their lives as marriage counselors and educators to supporting couples and families to improve the quality of their relationships at home, at work and in the community. While the need for help has increased because of the economic crisis, many couples and families simply cannot afford the cost of quality marriage and relationship counseling and services. The Johnson's continue to invite a host of supporters locally and nationally to assist in the success of this event. Most notable, currently includes Congresswoman Maxine Waters with her husband Ambassador Sidney Williams and Actor/Author/Activist Hill Harper.
The husband and wife team of U.S. Congresswoman Maxine Waters (CA) and the Honorable Sidney Williams, former U.S. Ambassador to the Bahamas have agreed to serve as honorary chairpersons. Both are lending their support by making a personal appearance to help raise public awareness of this problem and the need to raise funds to support families in desperate need of this kind of support. Congresswoman Waters is considered by many to be one of the most powerful women in American politics today. She has gained a reputation as a fearless and outspoken advocate for women, children, people of color and the poor.
Hill Harper, the author of the bestselling Letters to a Young Brother, which won two NAACP awards and was named a Best Book for Young Adults by the American Library Association in 2007, and the New York Times Bestseller Letters to a Young Sister which also won a NAACP award in 2008. He stars in CSI:NY and holds degrees from Brown, Harvard and the Kennedy School of Government. His new book, THE CONVERSATION: How Black Men and Women Can Build Trusting Relationships will be released on September 8, 2009 from Gotham Books (a division of Penguin Group USA). His dedication to improving the quality of life for young people and adults is well known. He has agreed to lend his support to this event to raise public awareness of this problem and to help raise funds to assist families in need.
There will be a private reception for all participants who register by September 25, 2009 with Congresswoman Waters, Ambassador Williams, and Mr. Harper. Regular early bird tickets, are available until September 25, and are $100 per person and include the private reception. After September 25, 2009, tickets are $125 per person, and do not include the private reception. The event will include great food, entertainment, including vocals by Ortheia Barnes, and Saxophonist Duane Parham, interpretative dance by Kimberli Boyd Johnson and giveaways. Ticket sales end on October 12, 2009. For more information about this exciting event and how you can support this monumental cause: http://www.celebrationofcouples.com or call (248) 547-1180.
###