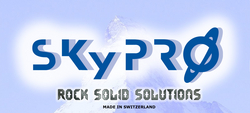 We are delighted to announce our new reselling partner Gracon Services
Grand Rapids, Michigan, United States (PRWEB) September 14, 2009
SKyPRO USA has teamed with Gracon Services Inc, a leading technology solutions provider based in Michigan, servicing the Midwest to support the demand for the SKyPRO FaxGwise and SKyCOM 4GW, the FAX SW and VoIP softphone client, integrated into Novell GroupWise.
Mike Grady, CEO of Gracon Services commented: "The need of our partners for a unified GroupWise VoIP communications platform has lead us to team with SKyPRO. SKyPRO's products including, FaxGwise and SKyCOM 4GW allow GroupWise users the convenience and ability to send and receive, both Faxes and VoIP telephone calls, from their GW Desktop. SKyCOM can link with an existing VoIP PBX, run with an on site Open Source based Asterisk PBX, or an off site hosted IP PBX service, allowing increased productivity and lower communications costs".
"We are delighted to announce our new reselling partner Gracon Services," said Christian Karch COO of SKyPRO USA. "SKyPRO has seen growing demand for it solutions which increase Novell GW user productivity allowing the GW user to access VoIP telephony, FAX and SMS features, all from their GW Desktop/toolbar. The seamless integration of these SKyPRO product features turns the GW environment into Unified Communications Platform, increasing productivity while dramatically reducing communications costs."
About Gracon Services:
Gracon Services Incorporated (GSI), established in 1982, is an advanced systems designer and integrator. GSI's technical staff has years of network and communications integration experience.
About SKyPRO:
SKyPRO is a 21 year old Swiss firm, founded in 1987 and based in Cham, near Zurich. SKyPRO is a software manufacturer and provides software products and custom programming in the areas of Novell applications and Identity Management. Current and past clients include Swisscom, Swisscard, UBS, Credit Suisse, Novell, and Microsoft, plus many others.
# # #