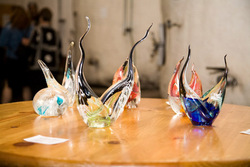 Celebrate Agriculture with the Arts
Oakhurst, CA (Vocus) September 13, 2009
Madera, CA (Vocus) September 12, 2009 -- The Madera Vintners Association will co-host the opening of "Celebrate Agriculture with the Arts" with the Madera Co. Arts Council during California's Wine Month Celebration.
The Madera Vintners Association is honored to join the Madera County Arts Council to "Celebrate Agriculture with the Arts" at the exhibit's opening reception at 5:30 pm on Thursday, September 17, 2009 at Circle Arts Gallery in Madera. Guests will get the first glimpse of the works submitted to the juried art competition while enjoying fine wines from the Madera Wine Trail. The public is invited to join the celebration free of charge at Circle Arts Gallery, 1653 N. Schnoor Suite 113, Madera CA.
For the fifth consecutive year, Governor Schwarzenegger has proclaimed September as California Wine Month. According to KC Pomering, the Executive Administrator of the Madera Vintners Association, the declaration highlights California's wine attributes. "Our beautiful wine country landscape and ideal climate for wine, our talented and ingenious winemaking families, our celebrated lifestyle and cuisine and our commitment to sustainability and the environment are all on display. The family winemakers of the Madera Wine Trail are proud to be a part of California Wine Month," she said.
Madera County, also known as California's Gateway to Yosemite, is one of California's oldest wine making regions. Many wine enthusiasts are familiar with the region's popular desert wines, however the region also produces numerous award winning dinner wines as well.
For more information on California's Gateway to Yosemite, or other Madera County attractions, log on to http://www.yosemitethisyear.com.
For more information on the event, please contact:
KC Pomering, Executive Administrator
800.613.0709
For information about California Wine Month visit http://www.californiawineevents.com
###