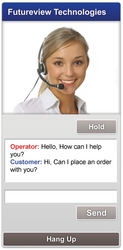 We are more competitive to secure new business for ThreeSource and our customer satisfaction response rate has increased dramatically.
Houston, TX (PRWEB) September 13, 2009
ThreeSource chose FutureView's InterActive OperatorTM system to personalize their clients' website using live video chat. By incorporating the InterActive OperatorTM system into their services, ThreeSource is supporting their fulfillment services in ways that were simply not possible before increasing customer satisfaction, sales and retention.
"When ThreeSource originally approached us to help them with our InterActive OperatorTM system we had a couple of things they wanted to be able to do with a video agent, but as we discussed it further we were able expand their original expectations to include new offerings. For example, an agent can show their customers how to follow certain instructions so they can properly use the product or help with installation issues visually, therefore cutting down on returns," said Jason Pace, CEO of FutureView Technologies.
The InterActive OperatorTM system can initiate a one-way or two-way video call directly through a browser window with no effort on the customers' part, so customers can see a live video agent allowing for a greater range of communications. ThreeSource wanted a system where they could have more personal, visual communication with their customers, so if there is an issue with a product, it can be shown to the agent, relieving frustration on both sides of the call and therefore providing better customer service. In ThreeSource's business they want to ensure their products are working to their customer's expectations, but if there is an issue they want to correct it immediately and make sure the correction is right the first time.
"InterActive Operator has been a great enhancement to our contact center," said Marty Bothwell, President of ThreeSource. "We are more competitive to secure new business for ThreeSource and our customer satisfaction response rate has increased dramatically."
ThreeSource provides fulfillment services for a wide range of customers and their products are very diverse so there is no common region, age, gender, or skill set to their disparate customer bases. They required the system to ensure their video call platform could be used by literally anybody and to keep it as simple as possible.
The InterActive Operator system supports all commonly used browsers such as Internet Explorer, Firefox, Chrome, and Safari. "The strength of the InterActive Operator system is its simplicity," said Geoff Land, FutureView's Director of Sales and Marketing. "With our platform you do not have to install anything and you can embed multiple links on your website ensuring your customers get routed in a few seconds to the right person who can help them." This new technology is a way to enable video communication seamlessly through your website that can be used by anyone on the internet.
About FutureView Technologies
FutureView Technologies is a global leader in video agent technologies and services that enable enterprises to easily create more personal, profitable sales and customer service relationships. All of FutureView's products are pending patent approval, based on our proprietary, IP-based video development toolkit. FutureView Technologies Global Headquarters is in Houston, Texas. Other locations include, Glasgow, Scotland; London, England and Washington D.C. For more information about the InterActive Operator system visit - http://www.futureviewtech.com
# # #