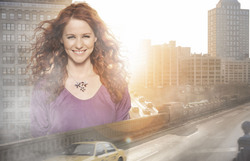 Essex, UK (PRWEB) September 15, 2009
The Pilgrim Jewellery company is family owned and was established in 1983 and are the epitome of innovation in the making of fashion jewellery. They strive to be ahead in fashion and have developed several designs over the years.
Pilgrim are introducing a new and innovative feature in this collection, Create it.
The designers Annemette Markvad and Birte Markvad have been looking forward to introducing a new and innovative feature in their collection, Create It. They explain: "Create It is an arrangement of various chains that allows the customer to create their own piece of jewellery - just the way they like it. A single chain can be used as a bracelet. Add two chains to make a necklace - add three to create an even longer one. By combining Create It with charms, both small and mega-charms, you can create a complete and unique item just for them. It's never been easier to be outstanding."
PILGRIM has also designed a Smiley jewellery as a way to promote the smile and bring out joy.
The Smiley jewellery consists of a necklace with a globe containing three chords and three colourful little smileys. The idea is to place the smiley on the chords to create cheerful bracelets.
It is at times like these that you appreciate the things that are close to you, such as good friends and the little positive experiences that create a sense of joy and closeness. That is why they have designed the Smiley jewellery as a way to promote the smile and bring out joy.
All the design is done in Skanderborg, Denmark, where the company is based.
The collection is characteristic in its choice of Enamel, the finest Austrian Swarovski Crystal, Acrylic Stones and Freshwater Pearls. The jewellery is made from a tin or zinc alloy coated with copper or palladium and then gilded with 22-karat gold or sterling silver plated using genuine gold or silver respectively.
All Pilgrim Jewellery is 100% nickel free.
Each item of Pilgrim Jewellery is individually handmade.
Pilgrim Jewellery - Autumn/Winter 2009 Collection Launched
Full details of Pilgrim Jewellery - Autumn/Winter 2009 Collection Launched
###