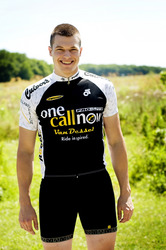 Tipp City, OH (PRWEB) September 13, 2009
8,000 miles on a bicycle… Seasoned cyclists wither at the thought. Now imagine doing it in less than two months never having ridden more than 200 miles at a time. A strapping young man, Phil Nagle is quick to smile, with a laid back attitude and boyish good looks--but don't let him fool you. He's as focused a young man as you could hope to find. The 23-year old from Tipp City, Ohio set his sights on a goal of cycling through 48 states in 48 days to honor his uncle who died at age 16 of Leukemia and raise $48,000 for the Leukemia & Lymphoma Society. With unwavering focus, Phil Nagle is about to add this astounding cross-country journey to his list of accomplishments.
Setting out from his hometown on July 20th, his goal was to ride back into town on September 6th. Strong headwinds, inclement weather and a few detours slowed his pace a bit, but he kept on going. Fast forward seven grueling weeks of 160-mile days and Phil is closing in on the finish line. He's expected to close the loop through all 48 states on Monday, September 14th around 6pm. His supporters are hosting a welcome home fundraiser for him at the CVS parking lot in his hometown of Tipp City, Ohio. The public is welcome to come out and support Phil's endeavor! Pizza and refreshments will be for sale, adding to contributions already raised for the Leukemia & Lymphoma Society.
To support Phil's communication efforts on his journey, One Call Now provided their message notification service, allowing Phil to send out regular updates. Sometimes they were location messages. Sometimes they were close calls with overeager dogs or strong headwinds. Fans, family, and people Phil met along the way were able to register at his website: http://www.go48in48.com to get these updates and Phil was able to continue to request donations from the road.
For additional information on Phil's World Record journey or how to donate to his fundraising campaign for the Leukemia & Lymphoma Society, please contact Christina Brownlee.
About One Call Now:
One Call Now is a Troy, Ohio-based organization that provides innovative solutions for automated communications, including voice broadcasting, text and email messaging, An Inc. Magazine honoree for 2008 and 2009, One Call Now is America's largest message notification service. The service simultaneously delivers to tens, hundreds or thousands of phone numbers within minutes. Phil used One Call Now's service to communicate daily with his well-wishers, giving them updates on his location and requesting donations for Leukemia & Lymphoma Society research.
Contact:
Christina Brownlee, Marketing Director
One Call Now
937.479.9287
http://www.onecallnow.com
http://www.go48in48.com
###