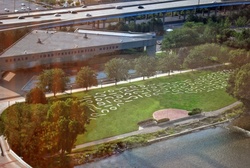 Code for the Grand River, Grand Rapids_09
Grand Rapids, MI (Vocus) September 14, 2009
Rising Chicago artist Deborah Adams Doering finds similarities between nature and technology. Her core language of form, which she also calls "code," is a common visual theme in her paintings, limited edition prints, and sculptures. Doering will also use her core forms in her upcoming art installation "Code for the Grand River, Grand Rapids_09" – a 2-part earthwork which engages and exhibits the essence of her visual philosophy for ArtPrize, a public art exhibition that will be held in Grand Rapids Michigan, September 23 – October 10, 2009.
Chief Curator and Vice President of Collections and Exhibitions, Joseph Becherer, of the Frederik Meijer Gardens & Sculpture Park in Grand Rapids, Michigan says about Doering's work, "It has been most rewarding to have had this opportunity to work with Deborah Adams Doering for the ArtPrize exhibition. Her work was selected from dozens of proposals that arose out of thousands of entries to ArtPrize. Her use of coding and symbols is at once ancient and contemporary, specific and abstract. Ultimately, it was the way in which she has designed her work to incorporate the natural world that proves most rewarding. The concept of the design across the grassy banks of the Grand River in downtown Grand Rapids is a bold, signature statement and is sure to be a hallmark of this important exhibition."
Doering's earthwork, consisting of eco-painted "codes" — 0's and 1's, plus horizontal lines and non-linear swash marks — will be installed on a 500 x 100 foot stretch of public park land facing the Grand River in downtown Grand Rapids called Ab-Nab-Awen Park, whose name means "Resting Place." Visitors may walk upon and interact with the code-forms in Ah-Nab-Awen Park during the exhibition. The earthwork allows for an artful movement connecting humanity and nature. The artwork also offers a place of respite and reflection in a time of rapid change. Ab-Nab-Awen Park adjoins the Gerald R. Ford Museum, where former President Gerard R. Ford now rests.
Doering's "code" begins with the circle, a form central to both nature (the circle of life, the earth) and technology (the zero). When a circular form is seen from the side, it can be viewed as a horizontal line (the horizon, a landscape) or a vertical line (the one). The swash (tilde) mark indicates the movement of the circle in a space, such that all forms are connected.
Doering states, "In my earthworks, the 'zeros and ones' that undergird our technologies become a way to visualize the intimate connection of humans with our planet. All living things — rivers, parks, people — are given a structure, a biological code. In addition, human beings have developed technological codes—our abstract 'zeros and ones' which generate the multitude of electronic visual images we see in the art world today."
"Code for the Grand River, Grand Rapids_09" displays nine form-symbols, which are repeated through each of the installations' "code." Each of the nine form-symbols is given a river term by the artist: "wave", "riffle", "pillow", "undercut", "eddy line", "horizon line", "chute", "hole", and "vee waves." In addition, each form-symbol has an aspect of technology associated with it, the most obvious being the zero and the one. "These terms help me designate each form-symbol, but that does not mean that each should be thought of as only one thing. Viewers are welcome to bring their own experiences and interpretations to the earthwork and to each form-symbol as well," Doering adds.
According to Dr. Lea Rosson DeLong, Independent Curator and Ph.D in History of Art from University of Kansas, "Deborah Adams Doering's 'Code for the Grand River, Grand Rapids_09' has a simple beauty, and yet works on several levels. Realizing that the 'codes' that form her work can be viewed in many ways, the interpretation of her art is layered in deep human expression about the meaning of nature in our modern world. She has launched her work onto a new scale from a micro world to a macro world where viewers can immerse themselves in the art, involving them on many levels and experiences – intellectually, physically, and spiritually. One of the most fascinating aspects is that as you are drawn into the art on a bigger level, one can interact with it physically by walking through the 'codes', viewing them at a distance and from many perspectives up close and far away. This interactive connection to the work gives an exciting new meaning to contemplation of art and conjures many thoughts including 'where do we fit as humans in the world of nature and modern technology.'"
The earthwork will be created in two parts:

The first installation will be in place from September 23 through September 30, which is within the first round of the unique voting process for the top ten artworks to be selected as finalists in the competition.
Between October 1 and 2, the ground will be mowed in consideration for a wedding to be held on the site.
The second installation will begin on October 4 incorporating the influences that have occurred on the site, thus indicating in the artwork, what has naturally occurred in life. The second installation will include a circular form with pathways that connect to the circle, mirroring the natural path of a river that flows next to the park. This second installation will be in place through the close of the exhibition on October 10.
The second installation is a progression of the first design influenced by the wedding celebration in the space. The path on either side of the circle indicates two people, but also two "water" energies, coming together in the circle – and as such, it can also be thought of an "Eddy" in the river.*
*Eddy – is a place in a river where the water is moving in a different direction or different speed than the main current. Rocks, outcroppings along the side, bridge pilings, and the inside of bends in the river, make eddies. Eddies are places where boaters can sit and stay relatively still instead of floating downstream. Eddies come in handy for scouting, resting, accessing play spots, etc.
Doering says, "'Code for the Grand River, Grand Rapids_09' is a site-specific work. That means that I take into consideration the context, the specific times and manner in which the work will be viewed. My more recent art works take into consideration 'Form + Concept + Context.'"
"Code for the Grand River, Grand Rapids_09" is one of over 1200 large and small works that are part of the inaugural Grand Rapids art competition, ArtPrize. Both local and international art will be on display for public viewing and voting from Sept 23 to Oct 8, 2009 and on display through October 10.
Ten monetary prizes are being offered to artists who garner the most votes cast by Grand Rapids residents and visitors; the top prize is $250,000, billed as the largest in US history.
Voters must visit Grand Rapids to register, but then may vote via text message or online. More information about the competition may be accessed at ArtPrize.org.
Information about Adams Doering's earthwork installation "Code for the Grand River, Grand Rapids_09" may be found at her website, http://www.deborahdoering.com -- or by typing "Doering" on the ArtPrize homepage at artprize.org.
###