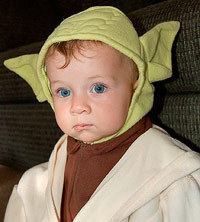 Halloween is such a fun season for us at Parents.com because we love the imaginative ideas and photos our readers contribute to our already huge catalog of Halloween costumes
New York, NY (PRWEB) September 14, 2009
As Halloween approaches, Parents.com has posted hundreds of ideas for Halloween costumes for girls, Halloween costumes for boys and the rest of the family. The costumes range from detailed instructions on making Halloween costumes to photos of the best store-bought costumes. There are even ideas for baby Halloween costumes and pet costumes.
"Halloween is such a fun season for us at Parents.com because we love the imaginative ideas and photos our readers contribute to our already huge catalog of Halloween costumes," said Melissa Inman, executive editor of Parents.com. "We love putting all this content together for families, whether they include babies, adolescents or even pets."
Parents.com is sponsoring a Halloween costume contest. Parents are encouraged to submit photos of their children for a chance to win a Sony HDR-CX100 High Definition Handycam Camcorder and be featured in the October 2010 issue of Parents magazine. Visit Halloween costume contest for the official rules and to upload photos.
Parents are always excited to celebrate Halloween for the first time with their babies. Parents.com has a photo gallery of baby Halloween costumes with ideas for the little ones - everything from "boiled lobster" to "banana" to "elephant" and more. There is even a special section of Parents.com set aside for Star Trek and Star Wars Halloween baby costumes.
For young girls, there are tons of cute girls Halloween costumes, ranging from "Goth" for the super cool girls, to "pirate" for the adventurers, to "octopus" for the animal lovers. Some of the costumes are simple to put together, such as making a red cape and finding a basket to complete a "little red riding hood" outfit, and others are commonly available for purchase, such as the "super girl" costume.
Very cool ideas for Halloween costumes for boys can be found at Parents.com. There is a photo gallery that includes a sumo wrestler, Elvis, Hawaii warrior and many others. It also includes some video game heroes and teen wolf.
It seems that most families believe when the family is dressed up for Halloween, the family pet needs a costume, too, because one of the most popular sections on Parents.com is for pet costumes. These pet costumes range from funny to quite hilarious, and include Harry Potter kitty, cowboy ferret, iPug, and many others.
Pregnant women have the perfect shape for creating a pumpkin bump. Parents.com has a photo gallery of painted pregnant bellies showing real expectant moms with all sorts of pumpkin faces on their bellies.
To get more Halloween costume ideas and the latest Parents magazine information,
Parents.com invites parents to follow them on Twitter @parentsmagazine.
About Parents.com
Parents.com is the premier parenthood site on the Web, and the interactive companion to Parents magazine, Family Circle magazine, and American Baby magazine. With its stable of easy-to-use, helpful tools like the baby name finder, the growing belly tool, the activity finder, and the birthday party planning tool, Parents.com serves moms and dads, providing everything every parent needs to raise happy, healthy families from crib to college -- how, when and where they need it.
###