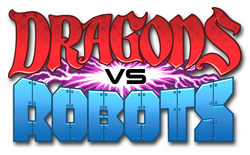 The future of media lies in building compelling, recognizable entertainment that works across platforms seamlessly
New York, NY (PRWEB) September 14, 2009
An epic battle between science and nature has begun! Massiverse, Inc., a new media development company that creates original and interactive transmedia properties, is announcing their exciting first property: Dragons Vs Robots. Science fiction meets fantasy in this unique world designed for kids ages 9 to 14, where futuristic robots and mythical dragons battle for control over the planet Earth. Today Massiverse gives a first look at the vast Dragons Vs Robots universe at http://www.dragonsvsrobots.com, where a free battle game and manga series have been unveiled.
Dragons Vs Robots was conceived by entertainment writer and producer M. Raven Metzner, whose credits include the prime time television series Six Degrees for Touchstone/ABC, and seasoned media and technology executive Jesse Soleil. Spanning over 200 years and three generations of future history, the Dragons Vs Robots narrative involves a devastating energy crisis that leads to the rise of powerful robots and the reawakening of ancient dragons. The source of their conflict is Protium, a rare energy resource that serves as a life force for both dragons and robots. Humans, who also need this precious substance to resolve the energy crisis, must choose their allegiance -- and so the battle lines are drawn.
Massiverse defines transmedia as integrated narrative storytelling that uses traditional and emerging mediums to develop a long-term personal relationship between customers and a brand. Dragons Vs Robots is the first of several original transmedia properties planned by the company. In addition to the battle game and manga series launching today, the Dragons Vs Robots saga will also be told through a trading card game, novels, animated webisodes, and a full-length feature film, providing multiple entry points for engagement and revenue. Plans are also in the works for a toy line.
"The future of media lies in building compelling, recognizable entertainment that works across platforms seamlessly," says Massiverse CEO and Dragons Vs Robots co-creator Jesse Soleil. "By telling the Dragons Vs Robots story in so many different ways, we are setting up an engaging and immersive universe for our customers, as well as a lucrative business proposition for our investors."
Starting today, all are invited to visit http://www.dragonsvsrobots.com and choose a side in the epic fight. Use the Dragons Vs Robots character creator to become a majestic dragon or a futuristic robot. Then send your personalized character into battle! The simple yet addictive Dragons Vs Robots online battle game is a free, safe way for children to become part of this dynamic universe, with each win driving up the player's ranking and tipping the balance in the power struggle. The outcome online will ultimately shape the overall Dragons Vs Robots story.
The Dragons Vs Robots: Blade Guardian manga series, also available for free on the website, puts another spin on the narrative. Authored by Metzner and illustrated by artist Jo Tokutora, Blade Guardian follows the journey of 14-year-old adventurer Sid Oda as he treks across the territories formerly known as China and Japan to find his missing family. As the series unfolds, Massiverse plans to offer customized print-on-demand services for players of the online game. The company is also pursuing release of the Blade Guardian series through traditional publishing channels.
"We aren't just releasing a game, manga series, book series, trading card game, or movie," says Dragons Vs Robots editorial director and co-creator M. Raven Metzner. "It's a complete universe with interlocking narratives. Dragons Vs Robots provides educational entertainment, with our young protagonists' heroic adventures set against a backdrop of real-world science and mythology, but more importantly, this is a world, a history, and an experience that kids will want to get lost in."
The team developing Dragons Vs Robots has years of experience creating quality children's entertainment products for companies that include Scholastic, The Cartoon Network, Nickelodeon, and Disney, and is dedicated to maintaining a similarly high level of quality with the Dragons Vs Robots franchise. Although the world may seem very different from our reality, the characters and situations are recognizable and relatable for kids and families, and all Dragons Vs Robots content is age appropriate and kid-friendly. The free battle game and COPPA-compliant website have been carefully designed to maintain visitors' online safety and reinforce responsible browsing behavior. The transmedia structure encourages kids to combine the online and offline components, to enable play and reading both online and offline.
Other Dragons Vs Robots components currently under development or in the planning stages include a trilogy of tween novels, a live action feature film (in collaboration with Jinks/Cohen Productions), toy and trading card lines, and a series of animated webisodes. Enhancements to the online battle game will also roll out over time, with the possibility of expansion onto next-gen consoles. These projects represent a rich transmedia experience with multiple revenue streams, and Massiverse is actively seeking partners and investors to collaborate on Dragons Vs Robots projects and help bring the universe to life. To learn more about Massiverse and inquire about business opportunities, visit http://www.massiverse.com.
About Dragons Vs Robots
Dragons Vs Robots is a cross-media property built upon real-world science, mythology, and literacy. The series brings together science fiction and fantasy in an epic storyline pitting futuristic robots against mythical dragons. Designed for kids ages 9 to 14, Dragons Vs Robots includes manga, books, an animated webisode series, a feature film, and a trading card game, all linked through a rich online experience. Each component stands on its own as entertainment, but when combined with other pieces creates a rich and engaging world that encourages fans to immerse themselves in the Dragons Vs Robots narrative. To choose your side and enter the world of Dragons Vs Robots, visit http://www.dragonsvsrobots.com.
About Massiverse, Inc.
Massiverse is a 21st-century new media development company that creates original, interactive transmedia properties, integrating traditional and emerging communication mediums, gaming, and powerful narrative storytelling. Massiverse specializes in developing complex interactive systems that work across multiple mediums, including: massively multiplayer online games, virtual worlds, alternate reality games, television, webisodes, mobisodes, feature films, gaming platforms, mobile, and print (both traditional and digital). The Massiverse team is made up of industry veterans whose significant experience creating quality entertainment includes projects with Scholastic, The Cartoon Network, Nickelodeon, Disney, and other prominent studios. To learn more, visit http://www.massiverse.com.
###