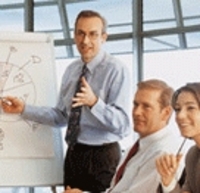 A New Approach to Succession Planning
Boston (PRWEB) September 14, 2009
Speaking at the Fifth Annual Talent Management and Leadership Development conference in Cambridge, MA, on September 14, Gerald A. Kraines, M.D., president and CEO of The Levinson Institute, and John R. Dyer, M.P.H., former COO of the Social Security Administration, Centers for Medicare and Medicaid Services, and the Food and Drug Administration, will give an account of the most comprehensive talent-assessment and succession-planning initiative undertaken in the federal government's history. The talk, "A New Approach to Succession Planning" will provide a powerful framework based on an increasingly popular management science called Strategic Organization.
Kraines, who is also on the faculty of Harvard Medical School, and Dyer, will describe the four unique aspects of this groundbreaking project.
1. The project began with a systematic process for determining the work complexity required for the top 200 roles in the agency. This provided the agency with a new and powerful way to differentiate between the true complexity of different senior roles. The goal then was to match the best possible person to each role.
2. Strategic Organization provided a unique, scientifically validated method for fairly and reliably assessing the current potential and future potential of existing talent for the higher-level agency roles.
3. Senior management was actively engaged in the assessment process and in the development of a comprehensive, "hands-on" succession plan (including both external recruitment and development of existing talent). This proactive stance contributed significantly to the success of the project.
4. The initiative was focused on the future of the agency. It allowed for the institutionalization of a software-facilitated process for the ongoing mapping and analysis of agency "pipelines of potential" and for tracking progress of succession-plan implementation.
According to Kraines, Strategic Organization and SONARIO®, its companion software, provide a "comprehensive system that supports the development and implementation of strategically aligned business organizations and talent. Strategic Organization brings a new level of scientific rigor and accuracy to the fields of talent assessment, talent development, organizational design, and succession planning. It utilizes well-researched principles, including the nature of role complexity and human judgment, to translate an organization's strategic intentions into the best-possible decision-making structures and processes. In doing so, each role in an organization can be characterized far more precisely than ever before. This permits a much more accurate description of the capabilities required for an employee or manager to be effective in any particular role. With Strategic Organization, organizational indecision, poor leadership, and people going down the wrong career path are all mitigated. Succession planning goes from being a hit-or-miss proposition to a reliable, scientific endeavor."
For a newly released white paper on Strategic Organization, please http://www.levinsoninst.com/LeadershipMatters_UsingStrategicOrganization.pdf