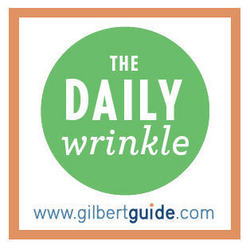 While there are resources on the web to help people through issues related to aging, they are fragmented at best
San Francisco, CA (PRWEB) September 14, 2009
The Daily Wrinkle, a new blog and online video show dedicated to educating, informing and guiding aging Americans, launched today at TechCrunch50, the annual prestigious event of the well renown technology blog TechCrunch.
The Daily Wrinkle will feature useful products, expert interviews, valuable services, tips, guidelines and resources for aging Americans and their loved ones. "While there are resources on the web to help people through issues related to aging, they are fragmented at best," said Jill Gilbert, editor, host and producer of The Daily Wrinkle.
"Our mission is to connect people directly with products and services that help them the most. We summarize and simplify the features and benefits so our readers find what's easy-to-use, fits their budget and can provide value in their lives. Whether it's a product, service, website or off-line resource, we want to be the one centralized place on the web where people can learn about what matters most around aging."
Gilbert also plans to invite aging experts and innovators to appear as special guests on the show. Early features and highlights of the The Daily Wrinkle include a live demonstration of a sophisticated, non-invasive home monitoring system for fall detection, a real-world test of a senior-friendly specialized blanket developed to stop grease fires in the home, a test of an ultra-soft "3-gallon holding" waterproof mattress pad, an interview with a pre-eminent brain fitness expert, an evaluation by a senior of a gadget that makes garage parking at home accident-free, and how a new and inexpensive online tool ensures that all family members receive electronic updates on their loved ones' health no matter if they live close by or in another part of the country.
While the size of the boomer and senior market is exploding, the needs of this important demographic is underserved.
77 million people were born between 1946 and 1964, by 2030, the 65-plus population will double to about 71.5 million, and by 2050, to 86.7 million people. (U.S. Census). Not only will this market increasingly require more guidance around issues related to aging, but they also own 65% of the aggregate net worth of all U.S. households. (U.S. Consumer Expenditure Survey).
The Daily Wrinkle is unique in that not only does it evaluate products, services and resources and suggest tips, but it allows people to ask questions, provide feedback and even purchase products that are featured on the blog and show.
A godsend for boomers and seniors alike, The Daily Wrinkle is being unveiled by the credible national resource Gilbert Guide, which was originally started as a groundbreaking senior care and housing guidebook on the concept that quality matters.
Today, the free site provides families with not only the most comprehensive senior care directory on the web for aging parents and loved ones, but also a direct line to practical solutions, extensive expert advice and quality assessment tools that help them conduct their own "expert" evaluations of providers.
The unbiased site also offers a wealth of resources that includes health issues for seniors and includes over 25 experts on a variety of topics, such as memory loss and Alzheimer's, finance for seniors, senior health and nutrition, aging-in-place technology, reverse mortgages, housing and real estate, legal advice, mind-body health, acupuncture, geriatric care management, life coaching and more.
"The Daily Wrinkle is a natural extension of Gilbert Guide Gilbert Guide," said Jason Gilbert, COO of Gilbert Guide. "While we hope to educate and share what we've learned, we look forward to a two-way dialogue with Daily Wrinkle readers and viewers about how we can even more effectively guide them as they navigate their way through issues, products and services around aging and senior life."
Consumers can tune in for daily for updates on http://dailywrinkle.gilbertguide.com and follow along on Twitter @gilbertguide.
About The Daily Wrinkle:
The Daily Wrinkle is a website dedicated to finding and delivering useful products, services, tips and resources for aging Americans and their loved ones. Host Jill Gilbert takes you through video product demos, in-depth interviews, and discussions of features for both on and offline resources, ensuring that The Daily Wrinkle educates, informs, engages and adds some fun into the mix for this exploding demographic. For more information: http://dailywrinkle.gilbertguide.com
About Gilbert Guide:
Established in 2004, Gilbert Guide is the leading senior care website where families find practical solutions, expert information and the most comprehensive senior housing guide and homecare directory for aging parents and loved ones. It was founded on the concept that quality matters, and its primary goal is to educate consumers on a breadth of senior care and aging issues. For more information: http://www.gilbertguide.com . Follow us along on Twitter: @gilbertguide.
Media Contact:
Renee Blodgett
617.620.9664
renee at blodgettcomm dot com
Twitter: @magicsaucemedia
###