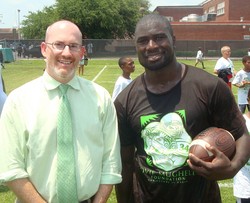 I really enjoyed working with Dr. Koniver
Charleston, SC (PRWEB) September 15, 2009
Craig Koniver MD, owner of Primary Plus Organic Medicine and a pioneer in the new medical specialty of Organic Medicine, recently launched his ECO-Athlete program designed for professional athletes. At Primary Plus Organic Medicine, Dr. Koniver, a Board Certified Physician, and his team aim their primary focus on preventing disease and maintaining health and wellness in the most natural way possible - through a sound program of dietary and supplemental nutrition. And while he follows this approach with all of his patients, he recognized that the nutritional requirements of professional athletes are extraordinary.
Professional athletes are under constant pressure to perform and excel, and that pressure is growing all of the time. With contests decided by tenths of a second and records shattered every season, the push to achieve is on - run faster, throw farther, jump higher, hit harder. For a pro, the competition is fierce, and the stakes are high. Says Dr. Koniver, "for most professional athletes the window on their careers closes quickly and they need to make the most of it. If they are eating foods they should not be eating, they are wasting energy. If they are not getting enough amino acids, then they are at a nutritional disadvantage. If they are not getting enough Vitamin D, they are at a vitamin disadvantage. All of these things matter because these professional athletes need to be as perfect as they can be, all of the time. They take care of their bodies -- they workout and train and supposedly eat well. Now we can literally measure that in the lab and I then can help them tweak what they are doing to get more out of themselves which can help give them the leading edge and be peak performers and lengthen their careers which can subsequently have a positive financial impact for them as well."
Professional athletes get advice from so many people and most of the time that information is not based on any individual testing or significant means of measuring what the specific athlete needs. Athletes are now getting advice about taking vitamins and supplements but as is evident regarding what happened recently to the NBA player who was taking an over the counter supplement and tested positive for DHEA and subsequently suspended, this advice can be incorrect and damaging to the athlete and his/her team. According to Dr. Koniver, "this should never happen to a professional athlete."
Says Dr. Koniver, "the biggest point I want to get across is that GENERIC advice does not work. No matter how great the nutritionist or strength and conditioning coach or whoever gives the advice, unless someone is able to actually able to measure and see how well their cells, vitamins, amino acids are doing, then it is impossible to predict." Adds Dr. Koniver, "so all of the testing that we do is aimed at trying to help the professional athlete, the elite athletes, figure this out so that they can then train better and perform at higher intensities."
Dr. Koniver's Primary Plus Organic Performance Lab features the most cutting-edge, comprehensive fitness and all-natural nutrition program of its kind and incorporates safe, natural supplements and metabolic and biochemical engineering. The ECO-Athlete program, designed for the professional athlete, helps them achieve peak performance through clean, safe and natural supplementation. Athletes find that this innovative program helps improve their body composition, shortens their recovery times, increases energy levels, boosts their immune system and optimizes their overall health.
"I really enjoyed working with Dr. Koniver," says Ovie Mughelli, Atlanta Falcons Fullback and Founder of the Ovie Mughelli Foundation. "As an Eco-Athlete myself and encouraging practical lifestyle changes for families and youth, Dr. Koniver has been invaluable, providing a wealth of knowledge as an expert in organic medicine and wellness."
To learn more about Dr. Koniver's one-of-a-kind ECO-Athlete Training program and to be considered as a candidate for this highly sought after wellness program, please call 843-767-7650 or visit http://www.primary-plus.com.
# # #