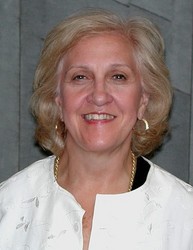 Chicago, IL (PRWEB) September 14, 2009
"We're dedicated to no less a task than working to transform education around the globe," said Marjorie Scardino, CEO of Pearson, when speaking about the education technology and solutions company's commitment to 21st century learning and the contextual knowledge and applicable skills that today's students will need to be successful in college and beyond.
At the education technology conference, EdNET, Pearson today celebrated this commitment and the election of Senior Vice President for Strategic Partnerships Kathy Hurley's new role as the Chair of the Partnership for 21st Century Skills(P21).
"Kathy is a dynamo; it's hard to slow her down and impossible to convince her something is impossible. She clearly understands that the learning we'll need in this new century includes some dynamics we've never had on our education agenda before. She's helped us identify and accelerate our emphasis on those dynamics in Pearson, and I'm sure she'll be a great leader and colleague as we tackle them in this group," said Marjorie Scardino of Hurley and her new leadership role.
As Chair of P21, Hurley plans to drive an agenda for change by increasing the number of states affiliated with P21 to 20; ensuring every child is prepared for the 21st century with skills like critical thinking, problem solving, creativity, innovation and global competence; and catalyzing a consensus that 21st century skills can and must be measured in K-12 education.
When talking about her new role, Hurley said, "I'm honored to serve as the Chair of the Partnership for 21st Century Skills, an extremely important educational movement that is gaining traction throughout the nation. P21 is about improving learning for our students and ensuring their success today and tomorrow. We know the high-growth job areas of the future will require our students to adapt to changing circumstances, to work well in teams and to communicate effectively."
Hurley added, "The Partnership understands that today's world is dynamic, creative, diverse, complex, and fast-paced. Pearson's challenge is to help transform the 20th century model of learning into a new model that effectively prepares today's students for tomorrow's work and tomorrow's citizenship."
To further support 21st century learning, Pearson is developing a website that offers a variety of resources, including examples of 21st century learning in action, industry experts discussing the topic, frequently asked questions and a glossary to help inform those who want to learn the basics about the movement.
About Pearson:
Pearson (NYSE:PSO), the global leader in education and education technology, reaches and engages today's digital natives with effective and personalized learning, as well as dedicated professional development for their teachers. This commitment is demonstrated in the company's investment in innovative print and digital education materials for preK through college, student information systems and learning management systems, teacher professional development, career certification programs, and testing and assessment products that set the standard for the industry. The company's respected brands include Scott Foresman, Prentice Hall, Addison Wesley, Benjamin Cummings, PEM Solutions, Stanford 10, SuccessNet, MyLabs, PowerSchool, SuccessMaker and many others. Pearson's comprehensive offerings help inform targeted instruction and intervention so that success is within reach of every student at every level of education. Pearson's commitment to education for all is supported by the global philanthropic initiatives of the Pearson Foundation. Pearson's other primary businesses include the Financial Times Group and the Penguin Group. For more information, visit http://www.pearson.com.
Contact:
Stacy Skelly
1.800.745.8489
# # #