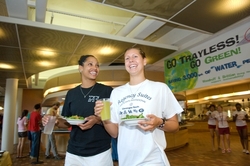 Sodexo is partnering with campuses to model organizational excellence in carrying out sound sustainability programs
Gaithersburg, MD (Vocus) September 15, 2009
Several campuses served by Sodexo earned a coveted spot on the Princeton Review's Green Honor Roll and Sierra Club's Cool Schools list for contributing to campus sustainability initiatives from methods of sourcing and serving food to reducing heat-trapping pollutants.
"Sodexo is partnering with campuses to model organizational excellence in carrying out sound sustainability programs," said Tom Post, Sodexo president of campus services. "Sodexo works with college administrators, students and faculty who are creating tomorrow's sustainability leaders."
Sodexo, through its contracted foodservice and facilities management, contributed to the following campuses earning green distinction, including Binghamton University, Colorado College, Georgia Institute of Technology (Georgia Tech), Warren Wilson College and the University of Vermont.
Binghamton University in Binghamton, N.Y. in collaboration with Sodexo, has reduced the amount of disposable items in dining halls to produce almost zero waste. Sodexo utilizes as much organic and local produce and dairy products as are seasonably available. Approximately 2,500 pounds of food waste is collected each day for composting from Binghamton dining and retail facilities, approximately 27,000 pounds per semester or about 27 tons per academic year.
Colorado College in Colorado Springs, through Sodexo-contracted facilities management, was able to reduce the number of cleaning products by half and switch to microfiber cloths and mops, reducing custodial-cleaning water use by about 247,000 gallons per year in residential and academic areas. Sodexo uses environmentally preferable chemical-dispensing systems that are nontoxic and reduce waste. Tent cards in dorm rooms tell students rooms are cleaned using eco-friendly products that are Green Seal™ certified. Colorado College was one of only two colleges honored by American School & University magazine, the Green Cleaning Network, and the Healthy Schools Campaign for the 2008 Green Cleaning Award for Schools and Universities.
Georgia Tech in Atlanta has benefited from Sodexo's comprehensive reusable mug program, which has significantly reduced waste and eased the way for a full-scale composting program. This year, the dining facility became a zero-waste organization by having dining waste composted and used for campus grounds maintenance. Sodexo has helped Georgia Tech adopt a conservation mindset with innovate marketing, such as The Wheel of Sustainability, which helps students think carefully about waste and consumption. Sodexo is also conducting a comprehensive energy audit of its dining facility with a goal to reduce its carbon footprint by 26 percent.
University of Vermont in Burlington, Vt. has created a sustainable food system with the help of Sodexo and its partnering with the university's Common Ground Student Run Farm by purchasing five community supported agriculture shares, which supplied produce to the dining facility. Sodexo also sponsors the Campus Kitchens Project, which encourages students to collect and donate unserved food to local food pantries. Sodexo has also spearheaded efforts to promote recycling and reduce plastic bottle waste.
Warren Wilson College in Asheville, N.C. benefits from Sodexo's expertise in sourcing vegetables, beef and pork from its own campus farm. Local produce is featured in the campus Cow Pie Café, which is a solely vegetarian and vegan venue. Warren Wilson has an extensive recycling program and composts all dining facility waste.
These achievements demonstrate Sodexo's commitment to work together with clients, suppliers and customers to take measurable sustainable actions today in the areas of environment, health and community that ensures a better tomorrow.
Sodexo, Inc.
Sodexo, Inc. (http://www.sodexoUSA.com) is a leading integrated facilities management services company in the U.S., Canada, and Mexico, with $7.7 billion (USD) in annual revenue and 120,000 employees. Sodexo serves more than ten million customers daily in corporations, health care, long term care and retirement centers, schools, college campuses, government, and remote sites. Sodexo, Inc., headquartered in Gaithersburg, Md., is a member of Sodexo Group, and funds all administrative costs for the Sodexo Foundation (http://www.sodexofoundation.org), an independent charitable organization that, since its founding in 1999, has made more than $11 million in grants to fight hunger in America.
###