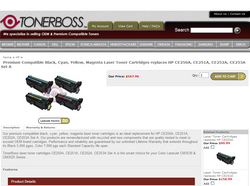 Brea, CA (PRWEB) September 16, 2009
TonerBoss' cutting-edge manufacturing capability beat the rivals yet again in being the first to market premium remanufactured laser toner cartridges for HP Color LaserJet CM3530 and CM3525 Series. Our premium remanufactured HP toner cartridges are ideal replacement for HP CE250A, CE251A, CE252A, and CE253A. Our products are remanufactured with recycled and new components that are quality tested to meet or exceed OEM brand cartridges. Performance and reliability are guaranteed by our unlimited Lifetime Warranty that extends throughout the 7000 standard page yield for colors, and 5000 standard page yield for black.
TonerBoss premium remanufactured laser toner cartridges are the smart choice for your Color LaserJet CM3530 & CM3525 Series. It allows consumers to save up to 40% while getting comparable crisp printing quality.
TonerBoss.com understands that not all business owners will be comfortable to try out remanufactured toner cartridges for their brand new machines. TonerBoss.com mitigates this risk by offering Unlimited Lifetime Warranty on all its remanufactured toner cartridges. At Tonerboss.com, high quality is never sacrificed for affordability. The company strongly believes in all their products, which come with a performance guarantee. If, for any reason, Tonerboss.com's products do not perform up to standard, the toner cartridge may simply be returned, exchanged or even refunded with no questions asked.
About Tonerboss.com
Tonerboss.com is the home of high quality remanufactured toner cartridges for HP printers at bargain prices. OEMs and compatible toner cartridges are also offered. The company has complete range of toner cartridges, fax toners, copier toners, as well as other popular printer toner cartridges for HP, Dell, Xerox, Brother, Canon printers, and more. Great finds, great prices, as well as 100 percent Product Performance Satisfaction Guarantee can be found at Tonerboss.com.
# # #