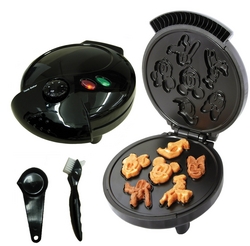 New York, NY (Vocus) September 15, 2009
Pop Art Toaster is heating up the kitchen with their clever and cool toasters. Linda Carlish, the president of a promotional merchandising company LC Premiums Ltd., is the brain behind these unique kitchen electrics. The POP ART toaster™ features interchangeable stencil image plates, allowing a wide array of different designs to be toasted with a single product.
In addition to toast, the Pop Art toaster™ can toast images onto frozen pancakes, toaster pastries, hamburger buns and flat bagels. For regular toasting without an image, simply remove the stencil plates and store them away. The toasters themselves are retro style, high quality toasters with 7 heat settings; reheat, defrost and cancel buttons; and a slide-out crumb tray for ease of cleaning. They are available in a plastic housing of black, white, red, pink and aqua or a chrome model; all styled to fit with any décor.
With the help of her mom friends, Linda put her creativity to the test and came up with the Creativity Coloring Kit. It is a 14 piece toaster set that comes with 5 edible flavored markers (FDA approved) for coloring on your food. After toasting designs onto the bread, kids are then encouraged to decorate their food - making mealtime engaging and fun. Whole wheat toast anyone? Yes! With the pretty apple flavored yellow flower.
The "mom division" was onto something and a new product called The 5-in-1 Tasty Baker™ was born. It is touted as the ultimate all-in-one table top appliance that bakes muffins, cake, pancakes, quick breads and more. Your food cooks in about one third the time and comes out as bite sized shapes that are perfect for kid sized mouths. It even makes eggs!
The Pop Art toaster™ and 5-in-1 Tasty Baker™, gaining in reputation, has recently signed on with Disney to create toasters and tasty bakers with Disney's most popular characters. Newest will be a sandwich and Panini maker that features Hannah Montana's rocking dual life. Use the Panini grill plate everyday for yummy sandwiches, or switch to the branded sandwich plates to feed your inner rock star!
Their list of achievements include winning the New Product of the Year award at the January 2004 Promotional Products Association International trade show, the Creativity Coloring Kit is a recipient of an iParenting Media Award, and the Tasty Baker has the 2009 Seal of Excellence Award from Creative Child Magazine while its two Disney models (Mickey and Princess) are winners of an iParenting Media Award.
For more information about Pop Art toaster visit http://www.poparttoaster.com
About Pop Art toaster:
Linda Carlish is the president of LC Premiums Ltd., a promotional merchandising company of her own creation that made its debut in 1993. She is also the brain behind these unique kitchen electrics. Her decision to create a new kitchen product came while traveling in China where she saw a toaster that toasted a smiley face onto bread. This got her thinking about the endless possibilities of designs for toasting, and the promotional ways they could be used.
The big break came when one of the toaster models was sold to Target, where it branded the store's bullseye logo onto bread. Additional corporate clients followed including Fox TV, Trump Plaza and the New York Times. From there Linda decided to create a toaster that could be bought and used by anyone. Her patented technology was the spring board for the POP ART toaster™
Contact:
ChicExecs PR
http://www.ChicExecs.com
1487 Poinsettia Ave Ste 125
Vista, CA 92081
760.992.9113
ChicExecs PR is an "out of the box" PR company which represents over 70 clients. ChicExecs has created an innovative approach to PR dedicated to helping small-medium business receive media coverage. Our revolutionary automated system is changing the face of PR. To learn more about ChicExecs visit http://www.chicexecs.com.
###