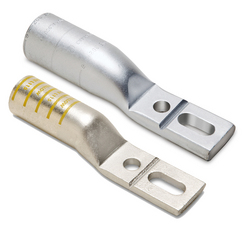 Accord, MA (PRWEB) September 15, 2009
BURNDY® a leading manufacturer and provider of Connector solutions to the industrial, energy, construction, telecommunication, petrochemical, data center, and transportation industries, is showcasing its expanded line of BREAK-AWAY™ HYLUG™ Compression Terminals in booth #1021 at the NECA 2009 Convention, from September 12 -15 in Seattle, Washington.
The BREAK-AWAY HYLUG provides maximum field flexibility by allowing the installer (using the BREAK-AWAY feature) to easily convert a two-hole terminal to a one-hole terminal to suit the application. With a slotted second stud, the BREAK-AWAY line of Compression Terminals can conform to various bus bar dimensions. For additional flexibility, the Narrow Tongue design allows the terminal to fit into tight spaces. Additionally, the BREAK-AWAY line of Compression Terminals accommodates a wide range of conductor combinations (AWG, Compact, DLO, Flex, and Metric).
To listen to Craig Lawson discuss BURNDY's expanded line of BREAK-AWAY HYLUG Compression Terminals featured at NECA 2009 visit: http://www.youtube.com/watch?v=kHk2UgRXN8Y
Press Contacts:
Kristin Nugent
617.367.0100 ext. 148
knugent (at) gr2000 (dot) com
About BURNDY®
Headquartered in Manchester, New Hampshire and with over 85 years of dedicated customer support in both service and product, our customers need look no further than BURNDY® for all their Connector, tool, and accessory needs. BURNDY® is the only manufacturer to have the BURNDY® Engineered System of coordinating dies, Connectors and tools. The three elements have been specifically designed to work together and engineered to meet stringent, accepted quality standards - allowing the user complete confidence in the integrity of the connection.
For additional information, contact us at 47 E. Industrial Park Drive, Manchester, New Hampshire, 03109, call Customer Service at 1-800-346-4175, or visit our website at http://www.BURNDY.com.
###