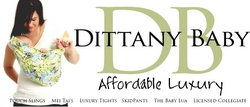 Their luxury tights are to die for - soft as silk and bright with lively colors and designs
Tulsa, OK (Vocus) September 15, 2009 –-
Dittany Baby is becoming a worldwide leader in luxury baby gear at fair prices. In light of the current economic strain found on many families, Dittany Baby has restructured and redefined "the way of doing things".
"I want to try to help every mother provide her baby with the "luxuries" they may consider out of reach. Boutique qualities, USA Made and luxury baby goods at prices I hope bring a smile to their face! Why not?? If it's in my power to do so, I have to as much for me as it is for all of you." says Dittany Baby's owner Shannon Krieger.
Shoppers can find Dittany Baby Products in well known retailers worldwide with distributors in France, Belgium, Japan, Australia, Russia, Czech Republic, and Singapore. They have restructured their domestic wholesale program putting their emphasis on bringing the savings and product direct to the consumer. Dittany Baby's corporate office located in Tulsa Oklahoma has turned their attention to increasing public awareness and brand recognition. The press and feedback generated during the recent release of their new luxury tights line was phenomenal:
"Seriously, these tights are the coolest things ever. Ava loves them!"- Jason, Naomi Priestly
"Their luxury tights are to die for - soft as silk and bright with lively colors and designs"- Stacie McClintock About.com
Dittany Baby provides parents and caregivers with a wide variety of gear for newborns to pre-teens. Their collection contains great products like the Reversible Padded Pouch Sling, Nursing Covers, Luxury tights and officially licensed collegiate leg & arm warmers that are both functional and fashionable. With up to date fabrics and a growing organic collection, Dittany Baby's in house art studio is producing some of the most fashionable baby gear on the market while following all CPSIA compliant regulations.
Dittany Baby also recently acquired the sole selling rights to sassafied.com's "Baby Lua". This unique car seat blanket drapes over any infant car seat while still allowing parents to safely carry their car seat, protect their baby from inclement weather and even unwanted onlookers. With their new redesign and restructuring, they were able to bring this new product to the public starting at $38.00 versus the $77.00 price point the "traditional" wholesale markup would have demanded.
Dittany Baby sells direct to the consumer through their online web store that also has you, the consumer in mind. The website is easy to use and they also have in place security precautions and monitoring by Security Metrics, Authorize.net, Better Business Bureau and their own SSL certificates. All of these things have been put in place to insure for a safe and positive shopping experience. With today's family in the forefront of their mind, you have to look at Dittany Baby as a top resource for boutique quality "USA Made" luxury baby goods. All at prices that will bring a smile to your face!
About Dittany Baby
Dittany Baby started in 2006 when owner/designer Shannon Krieger's first born son began to crawl. As he did so he would drag one of his legs, never really picking it up off the floor. After a few days his little precious leg was covered in scrapes and rug burn. Going to her sewing machine she created the first pair of SkidPants. A few months later while visiting a local historical market in Washington DC as a vendor, she heard over and over again the thoughts of others "This is amazing!" and "Why didn't they have these when my kids were little?" Out of her desperation and the confirmation of other moms and caregivers, Dittany Baby was born. Dittany Baby manufactures Made in the USA products using high quality fabrics following strict CPSIA compliant regulations. Dittany Baby's Goal is to bring luxury boutique products in to every family's parenthood experience. For more information on Dittany Baby visit http://www.dittanybaby.com
Contact:
ChicExecs PR
http://www.ChicExecs.com
1487 Poinsettia Ave Ste 125
Vista, CA 92081
760.992.9113
ChicExecs PR is an "out of the box" PR company which represents over 70 clients. ChicExecs has created an innovative approach to PR dedicated to helping small-medium business receive media coverage. Our revolutionary automated system is changing the face of PR. To learn more about ChicExecs visit http://www.chicexecs.com.
###